Hey, as you know (from i tweet really a lot) and my previous post, i had attended the XBerry Party yesterday (10/10/09) @ Republic, Sunway!
I hadnt been to Sunway for more than 10 years, in fact is 11 years d. Last time i went there im still 9 years old. Hehe
So many things had changed, Sunway Pyramid had become so large and got new wing and old wing summo…
Nearly "lost in the sunway pyramid" =p
and of cause, thanks for XPAX and NUFFNANG for bringing me back to sunway after so many years!
Thanks nuffnang for the pass!
Not everyone can get a pass into the party, plus not everyone can get a VVIP ONE!
YO! Im Xberry VVIP!
Not VIP, but VVIP! LOL (obviously too excited loh!)
I reached there quite early since i went there by bus. And i tot it will take very long for me to reach there. Anyway, i do some windows shopping 1st before the party started. And i can see the XBerry booth was very eye catching! Big purple balloon everywhere!

(In the picture you cant see the purple balloon i mentioned, the only reason is…
THE BALLOON IS TOO BIG TO FIT INTO THE PICTURE!!!!!!!)
FYI, if you be the first 500 to bourght the brand new Blackberry Curve, you will able to get it VERY VERY CHEAP, RM888 (save you RM300) and free 1 month access the blackberry service, plus limited edition skins!
Anyway, this deal is on that day only!
If u had missed it, no worry, at the period of 11 Oct till 23 Oct, you can get it with a special price too which is only RM998 for the first 1000 unit, and free 1 week access to BIS and free skin!
after that, you need to pay RM1188 for the berry. so if you want to grab yourself one and havent, act fast before the first 1000 unit sold out!
Before the party started, we bloggers and media had a photo section with Celcom's spokespersons and artists beside and on the stage.
At the picture, they are showing X….. using their hand! Hehe
So, how's the party going?
Outside of the bar, a stage was set up-ed for a series of rockin performances.
Although the setup is simple enough, Got X Got it all, but the performances were rockin all of us for the whole saturday night!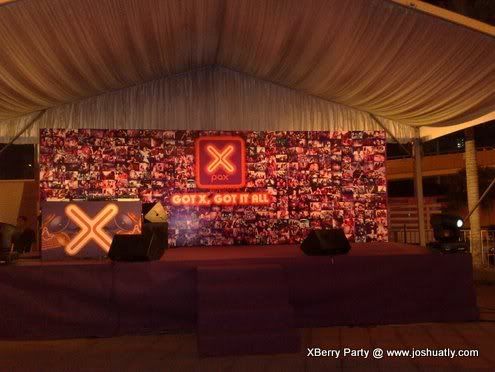 Not to forget, we got free tiger for the whole night! (for the 1st time in my life i clubbing and drink a lot of tiger)


(Got free pepsi one, but out of stock very fast =.=)
Below are some of the picture of the artists performing, including Beat Boxer, Joe Flizzow, Arabyrd, DJ Lap Sap, and DJ Tag!


and also the emcee

That night also got lucky draw, giving out a few blackberry, but obviously im not the lucky one, because in order to be the lucky one, you must be somehow rich enough to buy a blackberry phone 1st in order to get the lucky draw number, make me quite disappointed that night (since i know i will never get a chance to get the phone in hand before i went back)
Anyway, i hope this blog post will win me the blackberry! Yeah! at last im a bit hopeful now! Hehehe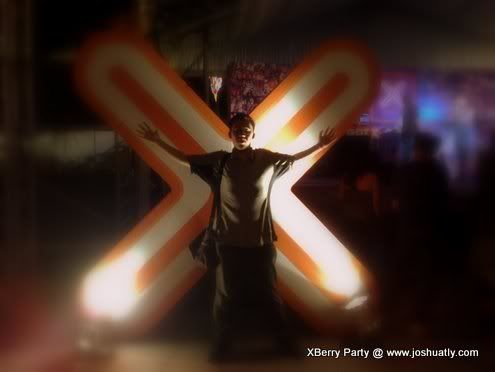 me myself try to pose a x, but too too too obvious is a fail one, look more like titanic, or the jesus on the cross (LOL)
And i meet LK Tan which is the dashberry cto, he told me, the Dashberry apps are coming to celcom very soon!
Its a media interactive apps which u can check out the latest news (in English, Malay, Chinese etc), football result, feed etc information via through your blackberry phone!
Not to forget to tell you guys, you can get connected to the world via XPax blackberry from RM1.00 per day only! And its a daily subscribe basis. Means if u plan to facebook a lot a lot or twitter a lot a lot that day, RM1.00 is the only fee u need to pay, if for the next day u feel like to sleep for the whole day forgetting about facebook and msn messenger stuff, you can just save your RM1.00 for future use! LOL
I like it so much!
You can check out more info @ http://xpax.com.my/blackberry/unlimited.html
Celcom, can gimmi one blackberry?
__ADDED on 13/10/09 in order to win myself a blackberry__
WHY? Why i wanna win a blackberry so badly?
Mainly is because with it, i can connect to the world even without my laptop (which most of the time in uni my laptop run out of battery…)
And blackberry is famous for it battery life if compared to iPhone. LOL
I can Twitter, MSN (aka Windows Live Messanger nowadays), Facebook (THIS IS A MUST) and check my mailbox anytime!
Only with as low as RM1.00 per day!
Where to get such a plan!?
I MUST GET THAT BLACKBERRY!!!
ah… AND, is because of the qwerty keyboard, which make me can send out more messages and twitter tweet in one minute!
Dashberry also one of the reason for me to get it!
__ __
joshuatly2009
For ALL photo i taken that day at the event, you can view it @ my facebook photos.