Yo! Here is the Part Two of my Windows Live Messenger (WLM) aka MSN messenger trick. You can read about part 1 HERE.
In part two i will teach about how to use WLM as a tool to get you more socialize and let more readers know about you!
Had you see anyone's WLM windows showing like below: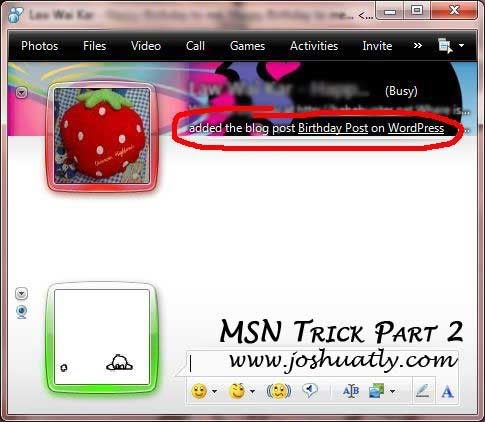 If ya, did you wonder how to do this?
So here is that!
Im sure your WLM have the Whats new section below your contact list.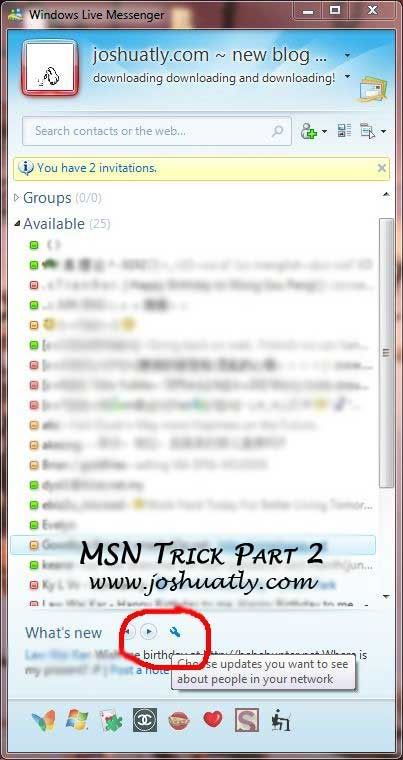 Move your cursor to the right of the whats new, you will see a "spana" thing come out.
Click that.
This will open a page on your favorite browser (default browser).


Login your Windows Live account.
Then this page should be appear on your browser


Showing to you is what you want to appear on your whats new section.

You can click on that to choose what you want your status to appear on other people's WLM.
Note that there are two section of it:


One is Windows Live, which is all checked by default, and second on the end of the pictures showing Web activity which is why i written this review all about.
You can click on Add web activities to your profile on the end of the page or if you are still in the previous page you can do the same too!
Then it will leads you to the page below:

Web activity that i recommend you all to add are:
For Bloggers, you can Custom blog which shows the RSS feed of one of your blog (unfortunately, i cannot find any way to add more custom blog)
Or if you use wordpress.com, you can add it by clicking Add on WordPress, and LiveJournal too!
If you have twitter, you can add it too! But it wont show much more details, just something like the 1st pictures on above.
Facebook! Yo! You can post your WLM quick message on facebook and show facebook message on WLM. Its Sooo…. FUN!
Digg and StumbleUpon
Photobucket or Flickr
Last.fm…..
etc.
So have fun with it
Its also a method to boost your blog's visitor!
So hope this can help!
joshuatly2009