If you are aware of the security news on the web, Lulzsec is not new to you. They made their news by hacked into and published Sony Picture's user database. They had been poking around sony's site, fox's site, PBS's site, and now porn site! And lets see what they had found…
So, in the recent hack of Lulzsec, Pron.com's user database is being exposed. For those who don't know, its quite obvious its a porn site.
Some of the email addresses are highlighted on the top, those are some .gov TLD email domain, and gov.my domain is on the list, two of them, out of 6
Again Malaysia made to the news for the wrong reasons.
MALAYSIA BOLEH! LOL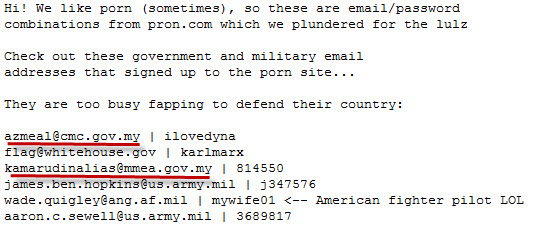 The first hero's name is Muhammad Azmeal Hj Ali (Mr) (AWEOME FACEBOOK PAGE)
He registered his porn site account with azmeal@cmc.gov.my.
Works at Malaysian Communication and Multimedia Commission,Studied at OUM,Lives in Cyberjaya,From Kampong Batu Kikir, Negeri Sembilan, Malaysia
Activities and Interests: Paintballing, Cycling, Running,Reading (and now he can add, watch porn at work)
His pose is as Content Regulation Department, Monitoring and Enforcement Division of Malaysia Communication & Multimedia Commission
Interesting job! So I think the reason he register to the website is pretty obvious, to see what content is on the porn site and try very fucking hard to regulate the site. And also gives him the passport to watch porn at his working hour. AWESOME!
I found his details on this blog post and his facebook page. God i love public facebook profile. someone go add him lah!
And im definitely looking forward to receive emails from MCMC about this blog post, hopefully from himself. 😀
Another guy from Maritim Malaysia
kamarudinalias@mmea.gov.my
This guy doesnt have much info on the Internet, and that email is not listed in the personal directory on mmea website, guess his job is not much web related or his main purpose on the web is to watch porn 😛
Haha, guess this guy is too boring on the boat.
By the way, pro tips, do use your company email to register to porn site, since you wont want spam in your personal email address… 😀
The full list is at the url below, check if your email address is exposed too. If ya, let me know so i can hack your account if you use the same password on all accounts…
http://lulzsecurity.com/releases/pronz.txt
Joshuatly2011