Link To Most Updated Version of TTPlayer Download
Well, TTPlayer 5.5 version had added a significant NEW function there is dekstop lyric show!
Got NO idea what is it?
See the screen shot below:


YEah! Thats it! Now your lyric can ALWAYS on your dekstop. You can sing out loud while you are browsing, chatting, downloading, or watching movie… =.=
So i will write a bit about the dekstop lyric as the official tutorials is in Chinese
This will give you an idea of whats the menu means.

To switch between Widnows mode(Normal Lyric Show Mode) and Dekstop Lyric Show mode, you can do this:


OR


OR

You can lock it (Refer the 2nd picture to know where to lock it), you can click through the lyric so it didnt need to worry about you can access things behind the lyric.
But how to unlock it?


Right Click to the menu and choose that.
Done
You can also customized the colour of the lyric show based on your dekstop background or anything you like.
Just go to the menu and do it: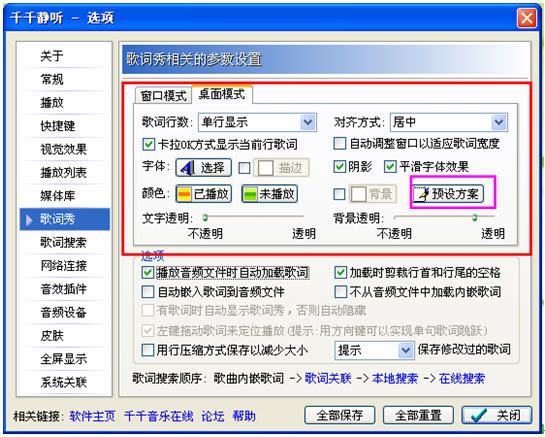 So done the mini tuts about desktop lyric show of TTPlayer 5.5
Changelog of TTPlayer 5.5 Stable release:
– Improvement of Desktop Lyric Show
– Added Desktop Lyric Show keyboard shortcut
– Even when the Desktop Lyric Show is no locked, you can click through it (Setting available).
– When TTPlayer closed, can be set to be unlock the Desktop Lyric Show
– Improved Online Music Search functionality
– Fixed Windows 7 Compatibility
– Fixed other bugs
5.5正式版功能更新:

Ø
新增边缘停靠功能,完善桌面歌词拖拽体验
Ø
新增桌面歌词快捷键设置,歌词模式切换更简便
Ø
桌面歌词在未锁定状态下,可使用背景穿透功能
Ø
关闭千千静听时,可设置是否自动解锁桌面歌词
Ø
优化音乐窗搜索性能,大幅提升搜索效果
Ø
解决windows7环境下的兼容性问题
Ø
修改其他BUG
Download Link:


http://rapidshare.com/files/242848744/TTPlayer_5.5_Stable_Version__www.joshuatly.com_.rar
Final Install Note:

joshuatly2009