Thanks Nuffanng!
Thanks Nuffnang!
Thanks Nuffnang MUAK MUAK MUAK!
Last week, i went to Nuffnang's office, to collect my DiGi MMS Speak Up Contest's early bird price, a pair of GSC Ticket! Therefore i enjoyed my UP! in the Cinema!
Thanks DiGi Thanks Nuffnang!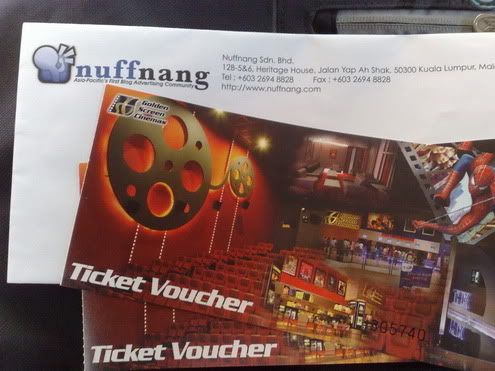 And then TODAY i went to Nuffnang's office AGAIN! To collect…..
Not another GSC Ticket BUT……..
is…..


WOW!
A PAIR OF T MUSIC FESTIVAL TICKET!
Worth RM168 each!
Nuffnang had just saved me RM 336 ! For just posting a comment on the blog!
So so so…. Unbelievable! I was So so so so happy and high when i knew i won, and i head out to nuffnang's office straight away to get my ticket (And i believe im the 1st one who go and take… Wakaka), because i dont have class on today!
Thanks Nuffnang…
Thanks! Muak muak muak!
So, if everything goes right, i will be watching the concert with my brother! And we can meet David Tao, Justin, Khalil Fong, ZChen etc etc etc and sing with them LIVE!
I must get my N82 ready to take a lot a lot of photos! (Although i know a phone camera is not good enough…)
Love Nuffnang!
Love blogging!
Proud to be a blogger!
joshuatly2009