Wow, i got so excited when i saw this news. Although i have no iPhone, iPad or iPod Touch.
But anyway, you guys knew i love DJMax till max right!
And now its available on another mobile platform!
But its not named DJ Max, but……
TAP SONIC!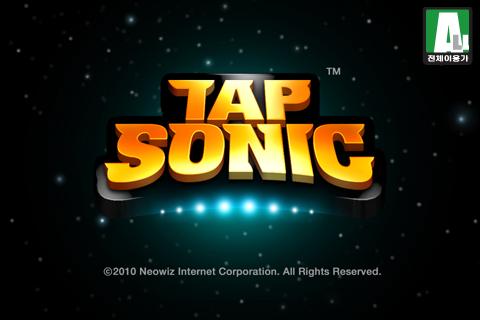 WooHoo…. such a cool game.
The sad news is, from what i read, its only available in Korea's Apple AppStore.
So lets learn a bit more about the game.

About Pentavision
If you dont know about DJMax or Tap Sonic, first of all its a music game, like Tap Tap, Guitar Hero, DJ Hero…. and you got the idea.
And why i say Tap Sonic is the DJMax on iPhone/iPad? Because the game is made by the same korean company: Pentavision
Pentavision is the maker of DJMax, which is the original music game, means the songs of the game are (most of them are) original, written only for the DJMax game. Unlike Tap Tap and Guitar Hero etc etc which uses pop songs for their game. And this is the main reason i like DJMax so much.
Their game is always so music oriented, although recent release of DJMax Portable had gone more into graphic, (the background video is so well made and fancy), with a very nice gameplay and nice songs.
About Tap Sonic
Back to Tap Sonic.
Its a free game which available on appstore (korean appstore at the moment)
WOW FREE! Thats excellent, but thats a catch.
There is an in app system which have what i called Music Points, and when you first install the game, it come with 300 MP. Each play will cost 15MP, and you will need to reload/pay money to get the MP to continue playing.
From what i can see from the screenshot and some video (which posted below),the game is super polished and some of them even say it's better than Tap Tap and Guitar Hero on iPhone/iPad.
Oh i almost forgotten, you must be always connected to the internet while playing (i guess your account details are stored in their server so there might be harder to hack for music point and bla bla bla)
And, if you got wifi iPad, you will need a connection in order to play the game. Sorry 😀
Game's songs will be downloaded at first play, so make sure you are on a good network when you first playing it.
Game modes available are as below:
Single mode
-4 Lines / EASY
-5 Lines / NORMAL
-6 Lines / HARD
Nonstop mode
-4 Lines / EASY
-5 Lines / NORMAL
-6 Lines / HARD
Songlist
DJ Max original
-Your Own Miracle / Ruby Tuesday
-Access / Sphazer
-고백, 꽃, 늑대 / ReX
-고백, 꽃, 늑대 Pt.2 / ReX
-Lover / ND Lee
-Miles / Electronic Boutique
-Remember / Lin-G
-Y / ND Lee
-설레임 / ND Lee
-Dear My Lady / Oriental ST8
-Melody / bermei.inazawa , UC
-Sweet Shining Shooting Star / Croove
-Ladymade Star / ESTi
-Syriana / Bexter
-Hexad / Electronic Boutique
-Out Law / Croove
-Stop / 3rd Coast
-SuperSonic / Planetboom
-Piano concerto No.1 / Wav Factory
-D2 / First Aid
-Sin / ESTi
-Son of Sun / Hosoe Shinji
-Whiteblue / Zts
-Fermion / Makou
Tap Sonic original
-Eternal Fantasy (Vocal ver.) / XeoN
-Trip (Tap Mix) / NieN
-CFLS (Tap Mix) / DINY
-Watch Your Step / XeoN
-Chemical Slave / XeoN
-Keys To The World (Tap Mix) / Planetboom
-The Guilty (Tap Mix) / P'sycho-Remi
-Xlasher (Tap Mix) / Hosoe Shinji
-La Campanella (Tap Mix) / Cranky
-RockSTAR / Mr.Funky
-SuperSonic (Mr.Funky Tap Remix) / Mr.Funky
Payment Policy
As mentioned above, the game itself is free, and come with 300MP (Music Point) when first installed.
Each game will cost 15MP, and if you used up the MP, you will need to buy it at the store section.
1,000 MP – 0.99 USD
2,000 MP – 1.99 USD
5,000 MP – 3.99 USD
10,000 MP – 5.99 USD
Which i will say its fair, and if i got iPad or iPhone, for sure i will pay 6USD for 665 play.
Screenshots
Videos



Click here for more Tap Sonic Video
Or search "Tap Sonic" or "TapSonic" on Youtube
Food For Thought
Again, another reason to get an iPhone/iPad/iPod Touch.
But im wondering, why they come out with a completely new system and game and why not use the DJMax Technika system which is already a touch game.
Just scale down everything, and im pretty sure Apple iDevice can handle the processing of the game. Just scale down it, and put it there, and i will go get it, and im sure most of the people who love DJMax will also like to have it on their fruity handheld.
When will Tap Sonic come to US (Dont even bother asking for appearance on Malaysia Appstore)?
And will Tap Sonic be coming to the robotic device, Android?
*fingers crossed*
Thats all, if you got anything to comment or add, please leave a comment at below.
joshuatly2011
Source:
Vavay.com
BemaniStyle.com