Yesterday I was invited to the launch of Sony Ericsson Arc in MidValley The Library. It is fun!
So the story is, Maxis had partnered with Sony Ericsson to bring their latest and changgih-est phone to Malaysia, and yesterday they launch their Song Ericsson Xperia Arc. (As i would like to call their Sony Ericsson Xperia series, SEX)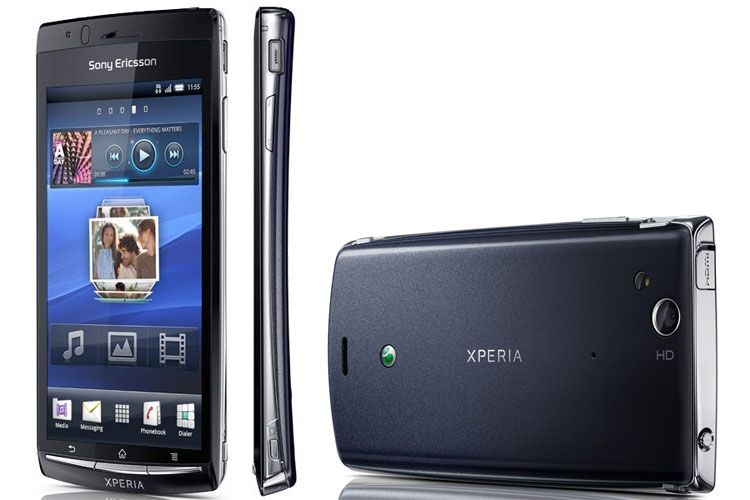 Whats so special about the SEX Arc?
It has the Android 2.3 Gingerbread OS, and a big sexy 4.2 inch touchscreen, mind blowing 8.1 megapixel camera with Exmor R technology, Reality display with Mobile Bravia Engine, and Tri band HSPA and Quad Band EDGE.
At the event, we are introduced with the new SEX Arc and some of its super canggih function. The phone will be able to connected to the TV via a HDMI Cable, and show 720p image on your HD TV! The thing that blown me away is you will be able to control your phone using the TV Remote! Not any special tv remote, just the normal one that came with your Sony Bravia TV. Amazing right! You will be able to navigate your photo gallery using your remote! So no worry that your HDMI cable is not long enough or you need to sit in front of the tv and control your phone to show your awesome pictures to your family members.
It also shows that you all image on your phone will be able to project to your TV 1 to 1. So, they showed a youtube video played on the phone that linked to the TV, and a game playing using phone but the graphic is showed on the TV. Although i dont understand the use of the playing game and show the screen on TV part but, its a cool feature. Im not sure if you will need a Sony TV to do so, or any HDTV will do.
And one of the really cool feature of the phone is, the camera of the phone is really awesome and able to take photo under really low light. And i find the phone is really small and impressed they can fit a 1500mAh battery into such a slim phone.
And…. we got some real surprise! You saw the dancing android post i posted earlier (link) and it went really viral and even RayWilliamJohnson picked it up after i posted my blog post :P.
Sony Ericsson was kind enough and "import" the dancing droid to the show! OMG!!!!!
And of cos the andoid dance in front of us and the VIP.

Dancing Android in Malaysia from joshuatly on Vimeo.
BUT! i manage to take a photo with the dancing droid 😛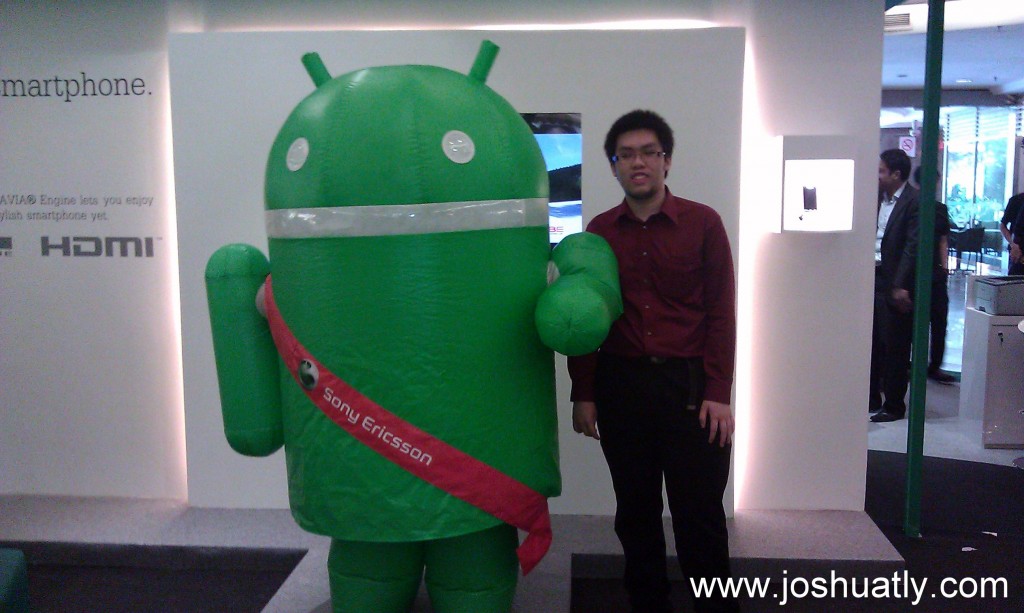 OK the price,
its exclusive to Maxis for one month, the price will be as listed below.
Retail Price: RM 2099
with Maxis 12 month contract: RM 1749
with Maxis 18 month contract: RM 1599
with Maxis 24 month contract: RM 1499
Some early impression of the phone, other than some of the feature above, the phone is really slim and can fit into any pocket, especially if you like to wear jeans. And with Gingerbread 2.3 it should be quite fast. The skin on top of it is still OK IMO.
I noticed that the search button is missing, hmm… thats the problem of the android "fragmentation".
Overall, if you like this, go ahead and get it.
Or if you want to read more review of the phone, head to mytechnews.info or click here here here here and here.
Oh not forget to mention, other than the phone, you will also get the accessories below worth RM429 if you get it with maxis package:
Hi-Fi wireless headset with FM Radio (MW600)
In-Car charger (AN401)
HDMI Cable
Screen Protector
Check out the Maxis Booth at MidValley throughout the weekend (till 10 April), and you can see, touch or lick the phone and do anything you want to it before consider to buy it or not.
With this partnership of Maxis and Sony Ericsson, you can expect more of Sony Ericsson's phone will be subsidized along with Maxis package, and im looking forward to SEX Play (the PSP Phone).
Thanks Maxis and Sony Ericsson for the invitation to the event, and BTW, congrats to Chapree for winning a brand new Song Ericsson Xperia Arc.
Joshuatly2011