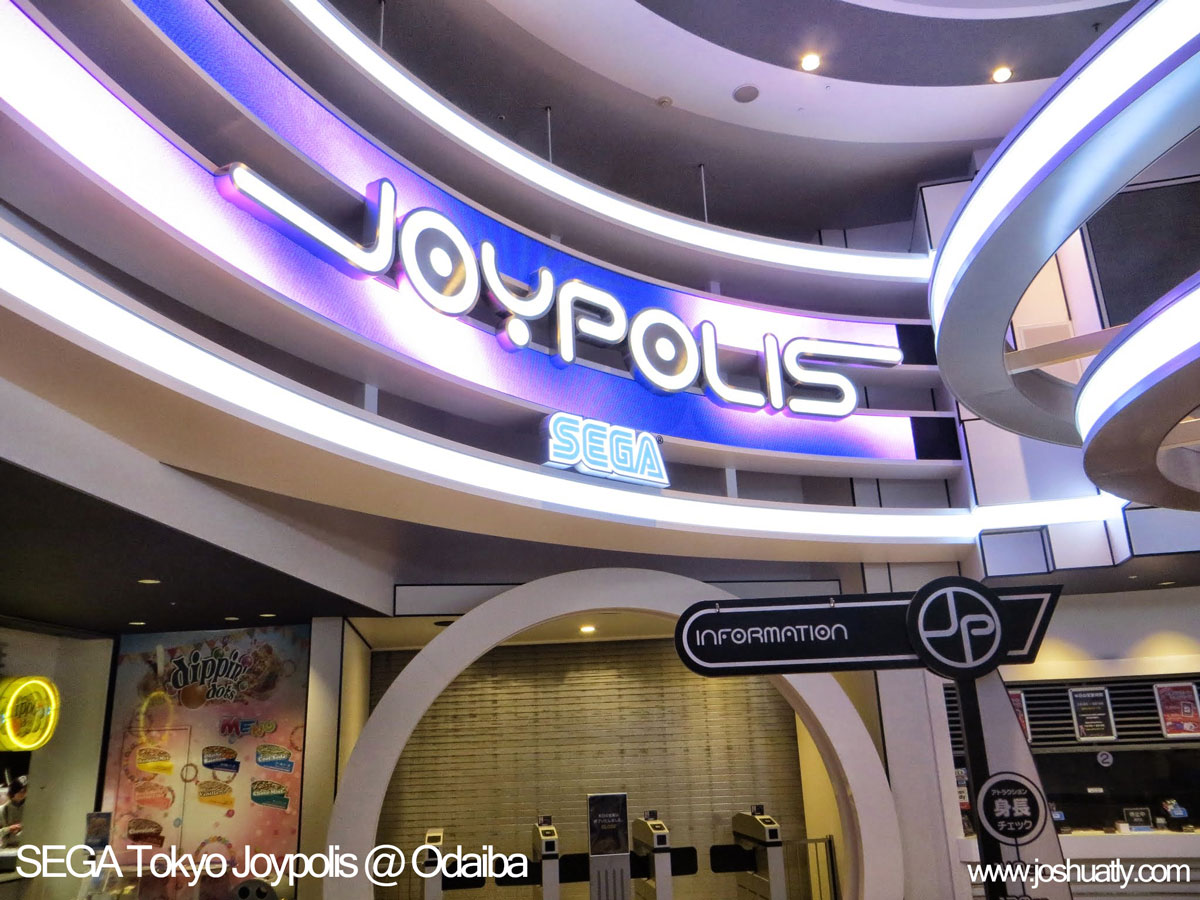 During my one day trip at Odaiba/Daiba, I spent my evening at SEGA Tokyo Joypolis, which is the most fun I've had in an amusement park for a good while.
Before I go in I was wondering if paying for the Night Passport is a good idea. The admission fee itself is ¥800, if you did not get a passport it will cost separately per ride. Each ride range from ¥500 to ¥800. Finally I pay for the Night Passport for ¥2,900. Night/day passport does not include credit for arcade game, only unlimited rides for the attractions.
The park was not busy that night, therefore most rides have no wait time. I dont have pictures of all rides, you can get information from their website. But below are my personal highlight.

There is a "Miku screen" in Joypolis, which use hologram technology to achieve 3D effect without glasses. If you watch or follow any Hatsune Miku concert you should know Sega is one of the company that use this setup frequently at big concert. There suppose to have short clips showing at specific time, but unfortunately I did not catch any. Seeing the logo spinning is still impressive, and I wish one day I will go to a miku concert.
Below is video of one of the concert, if you did not know about this yet.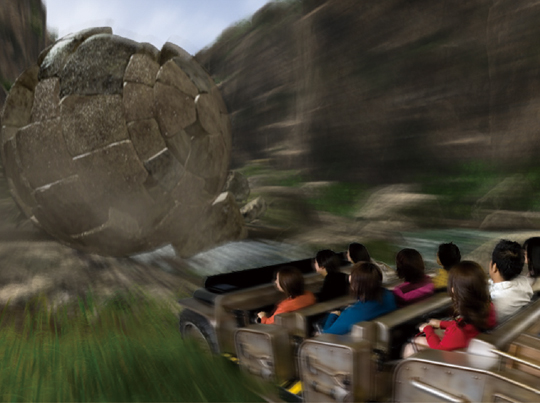 At 3rd floor there are 3 rides Wild Wing, Wild Jungle Brothers and Wild River. The setup of the 3 rides are identical. You sit in a motion ride platform (car, boat, or plane), surrounded by 180 degree HUGE screen, pictures projected by 3 projectors over the head. All of the rides have cheesy english version dialogue, but you wont need to understand anything to enjoy the ride. Although the graphic is not really HD, but the illusion still work, very well. It work better than most motion 4D/5D/6D rides I've been before, mostly because of the 180 degree screen that give an immersive visual experience.
Next is The House of The Dead 4 SP. It is similar to the arcade version of THotD, but with a twist, literally twisting the chair around, so you have zombies attacking you from 2 sides, a screen in front and behind you. Like most classic arcade shooter, it is very fun, as long as you are still alive 😛
Similar setup for Let's Go Jungle SP but I did not try that one.
Veil of Dark combine arcade shooted with roller coaster, which result in a thrill indoor roller coaster ride. You shoot through zombies during the roller coaster ride, very unique indeed.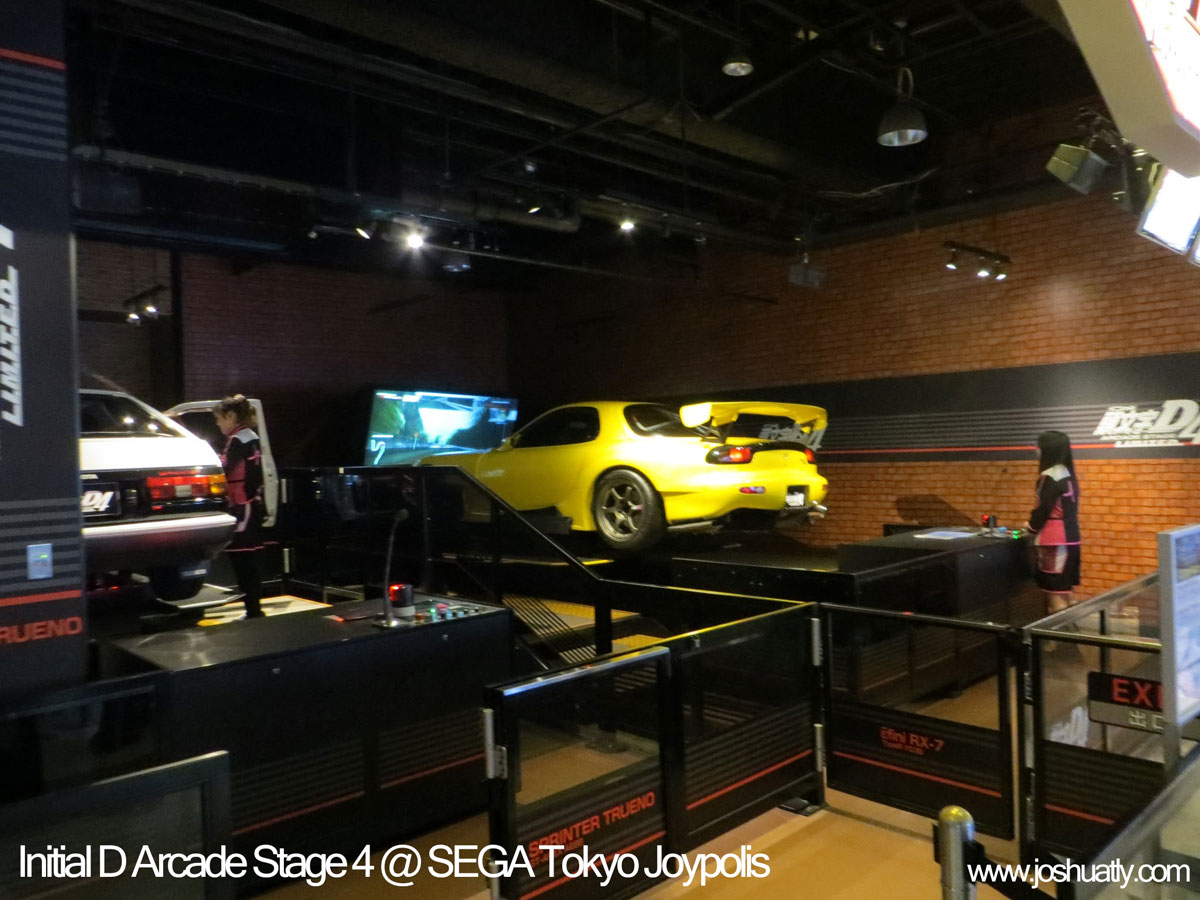 Initial D at Joypolis will swing you violently when you cut the corners. You can see the big screen mounted in front of your car setup, and the game isn't any different than the normal arcade version, minus the networking races.
Below are some of the attraction that just not at all fun for me.
Fortune forest is just you holding a "crystal" with nfc chip I suppose, and answer bunch of question to get your fortune. LAME. I quit before Im able to complete the questions. 😛
The Room of the Living Doll, horror themed attraction that only available in Japanese, most of the story told via voice from your headphone when you sitting on a chair that occasionally vibrate. Since I don't understand a single word spoken to me, I just troll the two Japanese youth that was with me, laughing randomly, and making stupid noises.
Lola and Carla the Beauty Contest. Also only available in Japanese, you suppose to answer bunch of questions to customize your character and finally take a picture in the photo booth. I don't know what's wrong with my randomly choosing the answer, but my "Q&A session" is 2 times longer than others =.=
Lastly, what about my favourite ride of the whole Tokyo Joypolis? That got me so excited that I play 7 times until they close?
Will share that tomorrow instead 😀
joshuatly2014