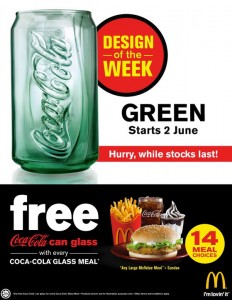 Recently McDonald came out with the super beautiful CocaCola Can Glass (or CocaCola gelas boleh in malay :P) with all sorts of colour. Its super nice if i had collected the full set. I havent use it to drink any water, but if you had, please take note.
The picture that floating at facebook are from a weibo (twitter or microblog in china) account name called 购物爆料 Gowula's tweet (tweet url)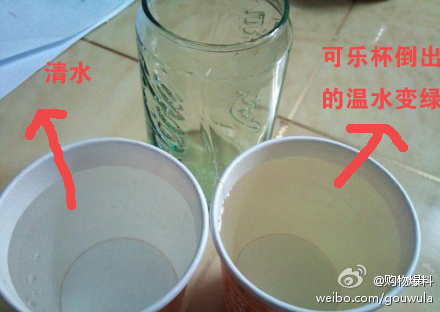 The caption of the picture is as below:
【小心!可乐杯装温水会掉色】最近M记推出可乐杯,引起收集的狂潮,有位网友对杯子做了一个实验,将100度温水倒在可乐杯里10分钟后,倒在一个纸杯上和清水对比,发现从可乐杯子倒出来的水明显的变成了绿色,,所以正在用可乐杯喝温水的你!!小心中毒!(爆料来源:@鑫鑫鑫鑫鑫鑫473 )
Basically in english means a guy from internet had done an experiment where he pour boiling water into the cup for 10 minutes, after that he pour out the water into a white colour cup and compare with a cup of clear water, and from the picture quite obvious that the water from the mcdonald cup had became greenish in colour. So if you do pour boil water into your mcd cup, beware since the die may be poisonous.
Well, i dont know if this is true or not. But i dont ignore it. Since many of people dont like to read manual, dont read terms and condition, dont read fine print, i figure that i will write this post to raise the awareness.
PEOPLE, RTFM! (Or if you dont know what RTFM is, means READ THE FUCKING MANUAL!!!)
Please take some time to look at the wrapping of the product you buy or get, read the fine print on the ads (if you are going to make a purchase) and read the 10 page long Terms and Condition or User Agreement before clicking NEXT!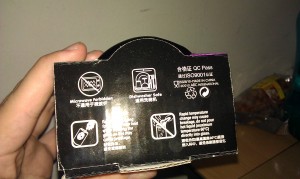 On the bottom of the wrapper when you get the cup, its clearly stated that DO NOT POUR HOT LIQUID DIRECTLY INTO GLASS! (Maximum 60 degree celcius)
So i dont care if the rumors is true, please do not ever pour hot water into the cup la.
If not, no one can guarrantee that the glass cannot do any harm to you, since its the CocaCola CAN glass, there is no cannot for the glass… just like… Malaysia Boleh.
One more note, if you are so angry till you want to throw all the Can Glass away, please dont, give it to me and hopefully by someday i can collect the whole set. Hahahahaha…..
joshuatly2011