Its about T-Music Festival, the report of the star about the 30 hours delay in the middle of the show:
Outage fails to dampen show
By OH ING YEEN

KUALA LUMPUR: A power failure at the five-hour music marathon concert T Music Festival saw some of the performers coming up with impromptu ways to calm the audience down.

During the half-hour blackout on Saturday night, singers such as Z-Chen, Khalil Fong, Kay Tse and David Tao came onstage to interact with the audience.

Besides that, some singers even sang a cappella-style, much to the delight of the audience at the Bukit Jalil National Stadium.

Crowd pleaser: Hong Kong singer Justin Lo being flanked by dancers as he performed at the T Music Festival at Bukit Jalil on Saturday night.
While some fans claimed that they saw a fire during the power failure, a spokesman of the organisers denied this and said the power failure was caused by a fuse problem.

The massive crowd continued to enjoy performances when power was finally restored.

There were about 20 singers from Asian countries such as Taiwan, China, Thailand, Singapore, Malaysia and Hong Kong.

The concert line-up included Khalil Fong, Kay Tse, Justin Lo, Soler, Joey Yung, and Kenny Kwan from Hong Kong; David Tao, Power Station and Sam Lee from Taiwan; Jade Liu and Ocean from China; and James Chin from Thailand.

Bringing the Malaysian flavour to the show were local songbirds Z-Chen, Eric Lim, Manhand, Andrew Tan, Kay and Rickman.

Local singer Andrew Tan kicked-started the marathon-style show but it was Macau duo Soler that got the crowd rocking.

In all, more than 73 songs were performed.

The show ended with a performance from Hong Kong popular songstress Joey Yung.
What crap lah!
See this?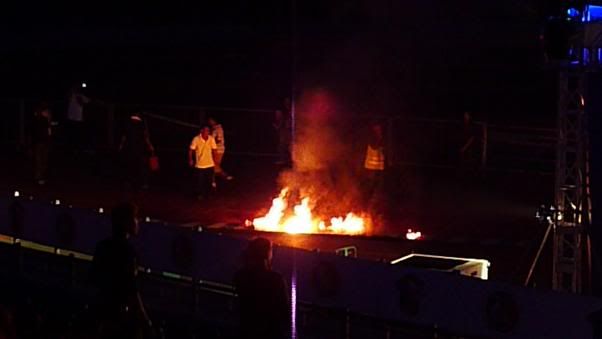 And this?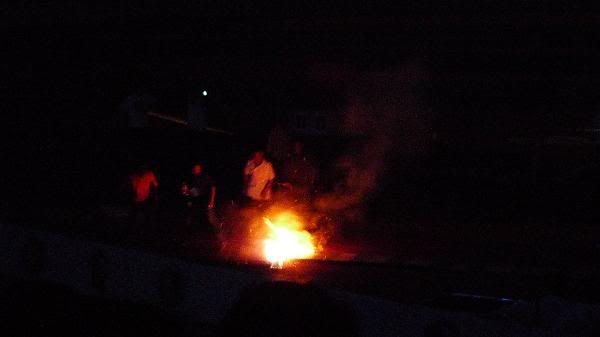 Maybe they are trying to tell that yellow de thing is not fire, not flame but… WATER! LOL
Fuse problem take 30 minutes to fix it… shit excuses!
(Source of pictures from http://joshuaongys.com/. He blogged about the fire with video summo… go read!)