Hi all, there was quite long already since i post my last post…
HUH! I think im too busy to write a post here?
OR im too LAZY to write a post here….
Anyway, tata! Here i am! Im back!
Thanks to those who check out my blog frequently even though i didnt update it… lol
And thanks to all of you who reading this and made me have the "ohm" to continue blogging!
Hahaha
So, the chinese new year havent finish yet. I think its not too late for this Niu (New) Year Post!

This new year is not as happy as previous one, this is because my grandma went into hospital because of she fall down in KL two days before new year and need to have surgery.
Luckily now she is fine. Very fine. Thanks god very much!
So basically the first few days of new year all of us esp my mum is just rushing to KL visiting her, worrying about her etc etc.
Haiz.
No new year mood at all.
But anyway, i have some happy time too cos after that we are told that grandma is fine. Not very bad!
Haha
New year must have a new shirt.
So here is mine!


Red in colour! Cool rite! Haha
What i enjoy very much this year is time with my old friends. 5 Beta 2006 sulaiman gang! Hahaha…
We go and 拜年 (house visiting) together! And get ang pao!
The first stop is my house….
Haha

Basically we agreed to gather at my house on chor sei (4th day of CNY) at 11.30am!
But on that day, my house door already wide open since 11.00am, nobody came…
I wait.
And wait and wait and wait……
TILL….. 11.45am! Yeah. the 1st one came!
Then wait for the others…
And wait and wait and wait……
TILL….. 12.30PM, then almost all here!
So basically what we did while bai nian were:
Chatting, eating,drinking, laughing, boring-ing, waiting, thinking (of which house to go next… ps… we never plan our route… haha)…
And most importantly…
GET BIG ANG PAO! Haha
Then also a very very important activity while we were bai nian-ing….
GAMBLING! PLAYING CARDS!
Yeah!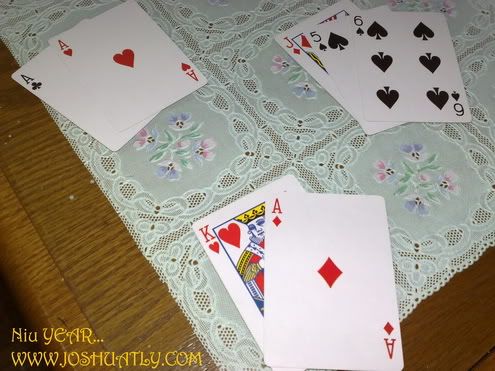 We play black jack, and poker basically (with all the wrong and weird rules)
Haha.
Very happy, cos i lose almost RM15 in the games that two days….
lol
1st day of house visiting, we only visit 4 houses and i get only 3 ang pao that day.
WHY? *Cos they came to my house mah! Hahaha
We met some friend that we never met for very very long. Cos some of them go out study, and some already working.
2nd day is the interesting~!
We went to more house (more ang pao $$$)
And we did the craziest thing that we had ever did…
Cooking in GAVIN's House! Hahaha
So some of you might want to know why we come out with this "brilliant" idea…
This is becoz, the 1st day bai nian, we go restorant and have our dinner. You know lah! CNY period, the price of the food had been DOUBLED or even TRIPLED… Haiz. That dinner cost each one about 10 ringgit… So we learn the lesson.
The second day, we had been thinking about something to eat that the price wont go up on CNY…
KFC? NO! Also the same result… RM10 per meal!
Mamak Store? Not a good idea.
COOK OURSELF! Hahaha.
Why Gavin's house?
Cos gavin's mother sure will welcome us! Haha. Actually we are expecting GAVIN to cook for us. But at first he didnt even want to welcome us to his house…
And we know his mother is not in that time….
So, HOME ALONE 4 TIME! Haha.
We go and mess up his kitchen!
He cant even say a word. We all buy everything and force him to open the door!
This call COW~ (牛~)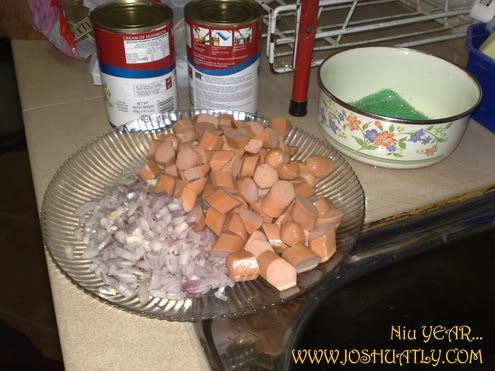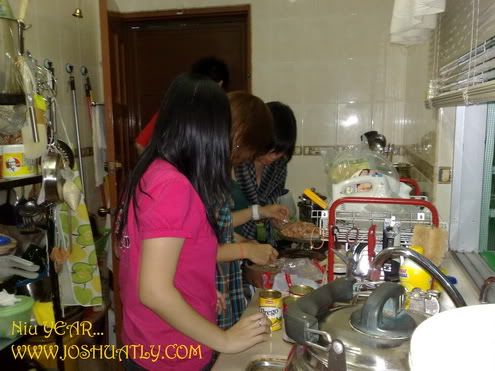 So we cook cook cook… spegaty and mushroom soup!


Yummy!
And we took a group shot before we eat!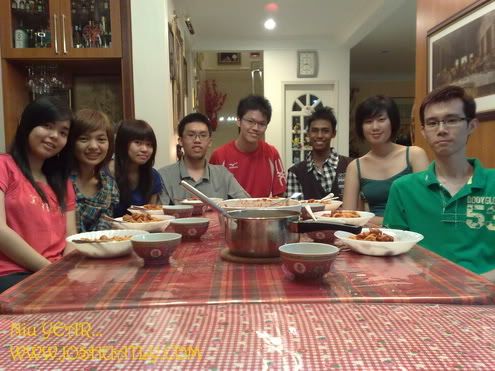 All of us enjoy the two days of bai nian, esp the cooking day.
And on the other day, i went out with my brother's friend and yam cha.

Then for the rest of the day, i only sleep, eat, play computer, etc…
Haiz…
tomorrow is the last day of new year.
How is your new year?
joshuatly2009