If you read this post, I won a Nexus S from Maxis. YAY!!!
Had been playing with it for about a week plus and here is my little review for it.
Between my Nexus S and my HTC Desire Z, i decided to keep one for myself and will give one to my brother @mrtlchen (his blog). I heard you wondering which device will I give to my brother, and I think I heard quite a lot of you all guessing i will give him the Desire Z while keeping the new phone to myself. But I tell you, you are wrong.
I'm keeping the old desire z while he will get the new nexus s. I have a lots of love to the nexus s and if you continue read it, you will know why.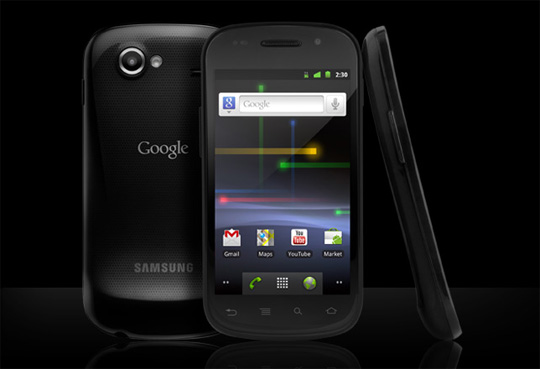 **psst, see, being my brother is so good, cos he got to play with my psp, ps3, and now he got an awesome phone! 😛 BTW, he did great free music. Check it out here. **
The Nexus S can easily be the sexiest gadget is had ever own, and it's the nicest android phone that you can get at this moment. The piece of big black glass at the front,with a big 4″ screen, minimal button at the side of the phone, super slim black body all these are the sign of google's minimalistic i guess.
On,when you flip the phone around,what you can see are the big camera lense, and the silver Google logo in the middle, and Samsung logo on the bottom, super damn sexy fuyoh!
Owning a google phone feels very good. Vanilla android is the best experience you will ever find on an android phone. The setup is dead simple, just sign in your google account and you are done. While the phone has everything essential you need, Gmail app and Youtube app, plus thousands more via the android market. With the latest version of Android OS on phone installed, always get the update first, makes it becomes the perfect geek and developer's phone.
But there are small small things here and there that I don't like about the Nexus S and they all are included in the smaller one size but much more heavier Desire Z.
1. No Camera Button.

This is the first thing I noticed when I attended the launch event. On the day to day use on the phone, there are moments that when I pulled out my phone, want to capture the moment, then I found out the camera button is not there, and when I go to the apps list and clicked on the camera apps, what I wanted to capture is over.
Anyway its worth pointing out that I think the camera lense on the Nexus S can be better than my Desire Z. But, I definitely miss the touch to focus function and zoom in function which I can have on my Desire Z.
2. Video Recording
There is NO 720p video recording on Nexus s, you must be kidding me. Not only that, i discover no autofocus while doing video recording, i might be wrong, and if i do, please correct me.
My Desire Z has autofocus and also touch to focus while doing video recording, which come in super handy.
3. Android market is still android market.
I REALLY HATE android market that there are some apps that you cant get from the android market, classic example is GMail. I thought this is not a problem in Nexus S but im wrong. You cant install some Google Apps from the android market and you cant update them. My nexus s for some reason is still using an older version of gmail. Haiz. So sad for being outside of US carrier, and i need to root my phone to install market enabler on my phone. Im really lazy to root my phone, esp my Desire Z. Anyone can help 😛
4. Keyboard
Im a fan of physical keyboard, and android 2.3's on screen keyboard is not that good afterall.
When i get my Nexus S, i know i need to live with the on screen keyboard, and being on android, that you can change your keyboard, the first thing i did is to download SwiftKey. I did try out the android default keyboard, and its not good, and SwiftKey is the best on screen keyboard i had used till now on android.
LIGHT! I NEED LIGHT!
There is not one notification light on the nexus s. So everytime i need to check if i had a email or twitter notification, need to turn on the screen, and see, no email? Then lock it. When im charging it, i dont really know its charging till i on my home screen. WHY CANT THEY PUT A SMALL LED ON IT?
OMG! Rant rant rant.
After everything i dont like about Nexus S, lets see what i love about Nexus S.
The Gallery App
The first thing i launch my gallery app, i saw something that blown me away! OMG THE GALLERY IS SO FREAKING NICE! WHY I CANT HAVE THAT ON MY DESIRE Z? (ya my cap lock stuck)
I really really like it, enough said.
The BIG screen
The screen size of the nexus s is 4 inch, while my Desire Z is about 3.7 if im not wrong. But it feel quite significant. I really love the size of the screen and the size in my pocket!
Processor Really FAST!!!
How i discover this, is recently i play the game Tap Tap Revenge 4, on both of my phone. And i discover the loading time for the game on Nexus S is about twice as fast while loading on Desire Z. And my desire Z do lag a bit while doing everything, and you wont feel it if you are only using that phone, and since i had been using Nexus S for quite a while, i do feel the lag in Desire Z.
NFC
The first phone to put an NFC chip in it. I think its always a plus, and im still waiting for the day when the feature is available for use all over the place.
Latest Android OS
With Nexus S, while you read a new feature released on android OS, you know you will be able to get it very soon. Unlike other HTC sense devices which usually took them more than 6 months to roll out the new OS while there is already a newer version out there!
THE AMAZING SPEAKER!
This phone, Nexus S, has an amazing built in speaker in it. OMG so loud and cristal clear. <3 Thats all for my little review of the phone. And why i choose to keep my Desire Z? Physical keyboard. Because i can type faster on the Desire Z which means i can be more productive! So if you want to see my Nexus S, go find my brother 😛 Oh no, if you want a Nexus S, go find Maxis! They are the one who is selling it. And next post will be regarding the NFC feature in the Nexus S. Stay tuned. joshuatly2011