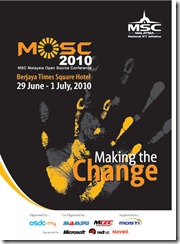 Hohoho, exclusive coverage of wordpress related topics at #mosc2010
Will start at 4.30pm
Live Blog
Look out this space starting from 4.30 30/6/2010 for super awesome liveblogging/livetweeting of the event!

Section Summary
Wordpress 3.0 overview….
So in that session simon shared about the history of wordpress, some stats, some new features of WordPress 3.0
Unfortunately the wordpress meetup is cancelled due to nobody coming…. so we ended up go yamcha after that LOL
Thats all, everything else is in the liveblog play back.
Voice Recording
–coming soon–
joshuatly2010