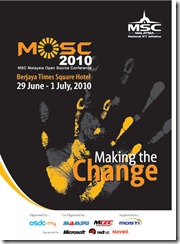 Soon it is about tribily. Happy following the liveblogging!
The coming session live blog will be on a separate post (Check the home page half an hour before another session start). Check the schedule here.
Live Blog

Section Summary
I attended some session, manage to catch the Zabbix session and recorded. Refer to the voice recording section down there. Its a server monitoring system, its open source and scalable from 1 server to thousands of servers. Some demo were given there. Its OK for me cos i dont have any server and i dont need to manage them LOL
After that, No Bugs, No Holes: Can Proof Assistants Help Achieve Software Perfection? – Kim-Ee Yeoh, Atamo Technologies, Malaysia was really short, when i went in he already try to conclude…. so i have no idea whats that about. =.=
Then sessions after that, im just kinda went to the wrong room, and bored with those topics i dont really interested. My bad. they all say its fine.
I manage to record the session about Open Source BI & Bpm in the cloud – Patrick Beaucamp, Bpm-Conseil, France
Dont ask me, i dont know a thing. I just sit there and play with my netbook =.=
Thats all for day 1. Wrap up post after this. (Wrap up post will post everything that is not related to the topics but related to the event!)
Voice Recording
Monitoring with Zabbix – Walter Heck, Tribily, The Netherlands

Download Link
26.1MB MP3 96kbps
Open Source BI & Bpm in the cloud – Patrick Beaucamp, Bpm-Conseil, France

Download Link
27.1MB MP3 96kbps
OMG it takes me 2 hours to upload this file successfully. 3 fail and wasted all my time =.=
OK. Thats all for Day 1 content post.
joshuatly2010