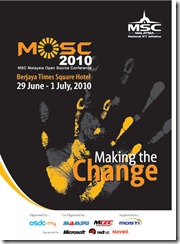 This is my forth posts in today, three of them are about #mosc2010 LMAO!
I think i break my own record of most blog post in a day.
By the way i also break my own record of most tweets in a day.
And i also break my own record of tweeting the most meaningful spams in a day, all about #mosc2010! LMAO!
First day of #MOSC2010 ended. Lets roundup.
This is my 1st time of MOSC, it was good!
All the MOSC topic related posts goes here and here.
Here is all non topic specific related things…
Overall,
The Good
The place is NICE. Berjaya Times Square Hotel
But the community track and dev track could have a larger room. too crowded all the time.
The internet is GOOD and accessible (most of the time), not like wordcamp LOL
(Proven that TM is more POWERFUL than P1 Wimax?)
The food was AWESOME! I was so full all the time, ALL THE TIME!
Free flow of coffee, tea, and even soft drinks summo!!!
WAHAHAHAHAHAHA………………………. I can live here forever….
Speaker was OKOK, there are some really good one, and there are some i feel like …. erm…. one. most probably i dont fully understand those topics.
Twitter was fun, and hopefully i will be able to win myself a PS3….
So dont say a word even im spamming the twitter, or your timeline. You can unfollow me but dont blame me. (joking, dont unfollow me can? Follow me instead!)
Liveblogging is fun too! (Probably this is the most likely way i will win a PSP for my brother!)
TWITTERFALL! Love it very much!
Air cond was not too cold and not too warm!
Two goodies with a little of goodies inside (most of them are fliers by sponsors.)
The Bad (or those who need to be improve lah)
The TSHIRT!!! RM30 IS TOO EXPENSIVE! Everyone should get one for free!
Why the tag no name, we are human, not machine…
Too less prizes for lucky draw LOL
Too formal
Not many g33ks around
Registration too early and not start in time.
Website time table not updated. Im confused at some moment (when the event started)
The exhibition not started at the same time as the conference goes
I Hope
All speaker slides, video recording are made public asap on the website
Improve the "bad" things LOL
MOAR FREEBIES at the exhibition hall tomorrow LOL
Things to look forward to on Day 2 of #mosc2010
The BIG BIG BIG THING! WORDPRESS MINI MEETUP!!!
(and right after that will be webcamp!) Hohoho!
Another Hard Drive for lucky draw?! Hahaha I WANT THAT!
Some cloud microsoft amazon topics,
MOAR awesome foods LOL
and more knowledges to be gain.
Exhibition hall will be open tomorrow. Im looking forward to see whats inside there and is there any freebies to grab 🙂
Thats all for the 1st day of MOSC. Will continue the awesomeness tomorrow as a blogger, and the future developer!
joshuatly2010