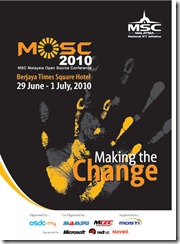 See the live blogging (actually is more about live tweeting archeive below)
The coming session live blog will be on a separate post (Check the home page half an hour before another session start). Check the schedule here.
Live Blog

Section Summary
I reach there super early, and not many people is there at 7.45am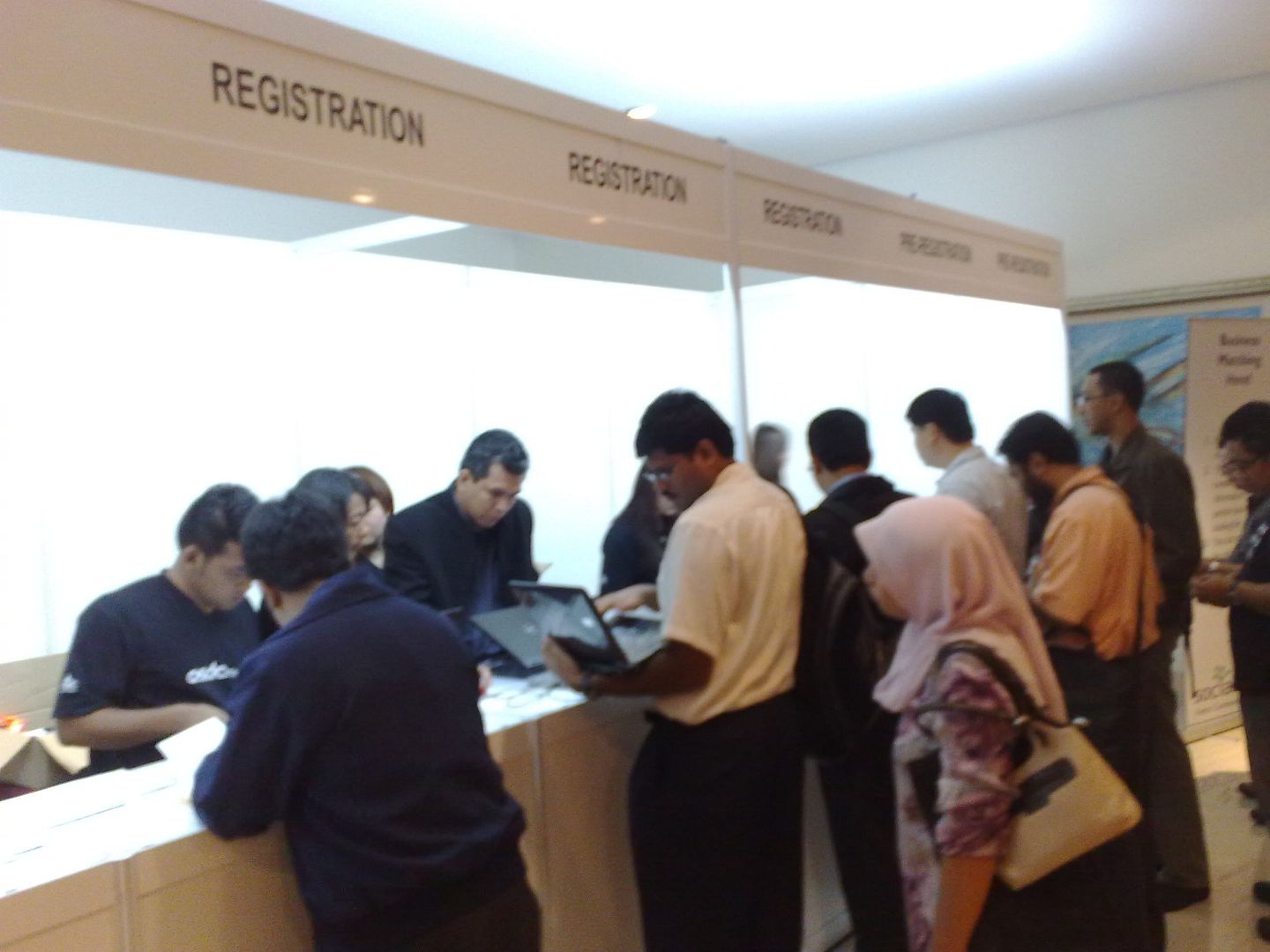 I approach the registration counter and they are still setting up, but after few minutes, im able to register and get my tag, and a goodies bag.
This is my tag:


See, the tag dont have our name (nor our twitte handle of cos)
Just have a barcode and group of number….
I dunno whats that for.
I may assume that the barcode is for the terminator (that will be revealed soon, government funded and powered by open source software) will scan the code and kill you if you talk something bad about #mosc2010 on blog or twitter. (farewell guys, im going to be dead soon)
As expected, the keynote started only about 8.55am while the schedule say it will start at 8.30am. Malaysia time mah, reasonable loh!
(But last time wordcamp my start on time! Haha!)
The keynote….. is super boring till now…
its like in school, the teacher speak in front, nobody will listen. im doing my blogging, surfing via netbook, and thats all.
i hope will get more interesting talks soon…
Shortly after the boring keynote, we got Frank Feldmann from redhat talking about Cloud Foundations, build on Open Source.
This talk is more interesting, in fact x100 more interesting.
This is the first time i know Amazon uses redhat…
I learn a lot about open source, and some cloud computing thing.
Only by then, i feel that thats the "meat" of #mosc2010 haha.
BTW, recording of that session had been uploaded. If you want to listen to it, you can do so, you can also download it.
After that talk, is some other talks which i didnt attend since i have no interest in them, but i chatted a lot with @simonlim88
I also attended Blender's talk which is super cool but the only thing that im not an artist. But from the talk, i learnt that FREE is not equal to NOT GOOD. Some proprietary software also copy features FROM open source software! WHICH IS COOL!
Demo time is good, impressing and mind blowing.
OK this post is final. There is a part 2 of the #mosc2010 Day 1. Do check it out.
Voice Recording
This is the unofficial recording for the session
Keynote – Cloud Foundations, build on Open Source – Frank Feldmann, Red Hat Asia-Pacific/Japan

Download it now
24.4MB MP3 file 96kbps
joshuatly2010