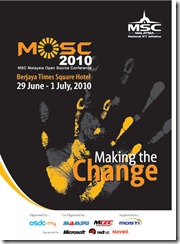 Afternoon session coverage by livetweeting from the event. Im archiving the tweets using CoverItLive!
All sessions after lunch of day 2 #mosc2010 will be covered here except for wordpress related will be on next post.
Live Blog

Watch the reply of the live blog!
Sessions Summary
After the lunch (which you can read more about whats happening before that here)
I went to a super interesting session, that was Open source for securing data with advanced Crypto-Steganography technology – Suhas Desai, Tech Mahindra, India
Talking about python, how powerful is python and also how to hide your text into files like images, mp3s,etc.
More tools about that you can found in the liveblog itself
The session Beyond Cloud Computing New Features Application, Abu Mansur Manaf, Cunsultant Persis, Malaysia which i dont quite understand the whole thing, he talked some about social media, cloud…. and im confused. Maybe i dont get it since is more business oriented.
After that Beginning Smartphone Web Development – Bikesh, iTrain, Malaysia session is about HTML 5, which you can write apps for the mobile, skin it to iPhone like, which is super cool!
Some very cool demo, easy to do and practical!
Before the day 2 ended, the wordpress keynote. which i dedicated a special post for LMAO (Sound like wordpress fanboy right? Nope im actually not.)
Check it out here.
Voice Recording
–I'll upload it later–
joshuatly2010