UPDATED WITH BBoy's Dancing Video! CHECK IT OUT!
Yesterday, I was lucky enough to go visit my school choir for the last time (since im going to study in KL starting from next week),
And they are having a concert, for the second time!
How wonderful was that!
They name the concert as Love Music Magic II. What an interesting and wonderful name….
Below is some pictures of the concert!

Beautiful posters did by them! (But…..)
Since this concert was organized by choir, so it started off with Choir's Presentation!
They sang three songs, one dunno what song, then Love Story, then DiGi song… LOL
(Wondering singing i will follow u will get sponsor by DiGi later or not…. Everyone 1 free SIM pack. Wakaka)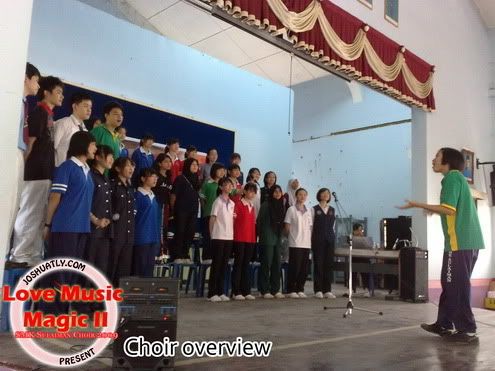 Xiao En was conducting (i wonder why not BBoy conducting?!?) and as usu, Hui Ru, the pianist.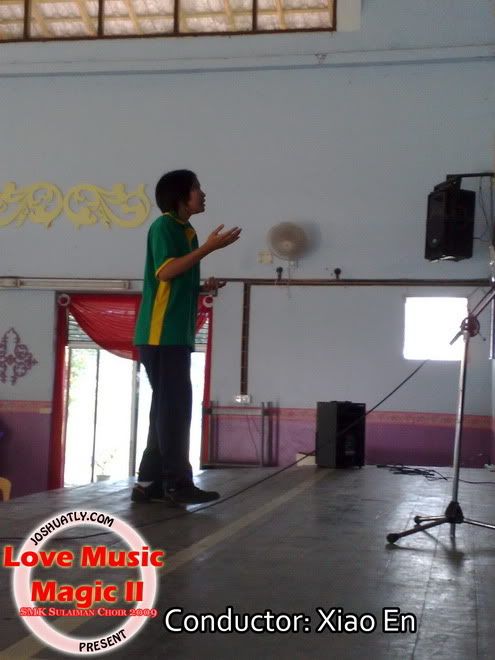 Then we had our two young emcee!
They are only Form 3! How well done (although overall its not perfect lah)
But nothing can be perfect right!?! Hehe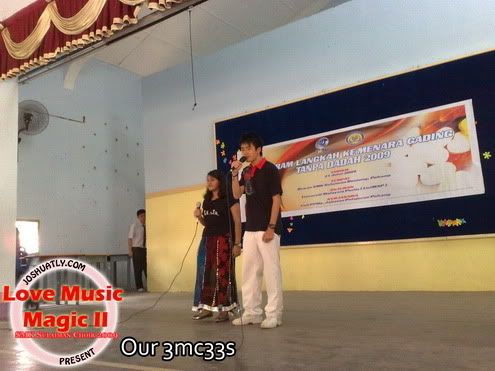 Names unknown as i dont bother to find out… Maybe someone can leave their name in the comment?
Then we have a upper 6 guy is presenting us….. A dance….
Dunno what dance is it, since it move like zombie and LOOKed like too, i named it Zombie Dance…
Hehe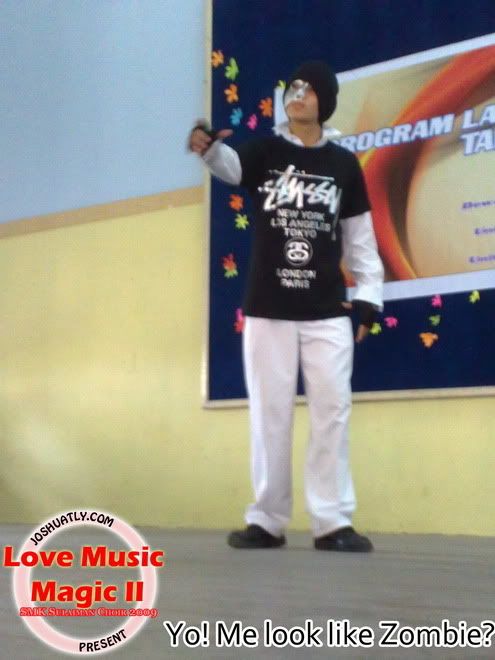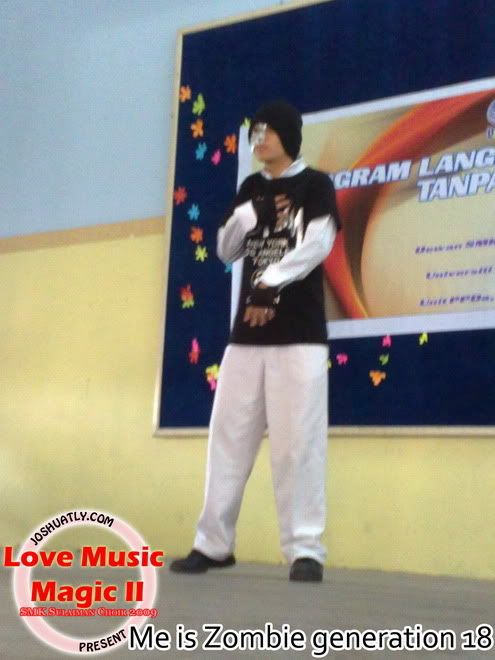 Erm, no comment about his zombie dance with some quite well mixed songs….
And I have no idea who this zombie is!
Need to figure it out…
Then we have Guitar VS Piano…

Guo Jing Zhi Nan is playing….
I have a feeling that the guitar is not tuned properly…. Or should he blame the lausy sound system?
Dunno!??
The concert continues with Piano Solo.
Geng!
After that, followed by….
The emcee claim that a form 1 and form 2 group is presenting us some songs….. (I believe i didnt hear wrongly, Do I?)


And i saw Jia En and Xiao En on the stage….
form 6 de spotted… xD
Then, Twins came all the way from Hong Kong to Sulaiman to sing!
(eh, not 散 jor meh? Ya lo hor…)

I do think they sing. Actually forget what they do and what song they sang…
Cos im not paying attention 😛
After that, we got something more interesting which pust the whole concert to the climax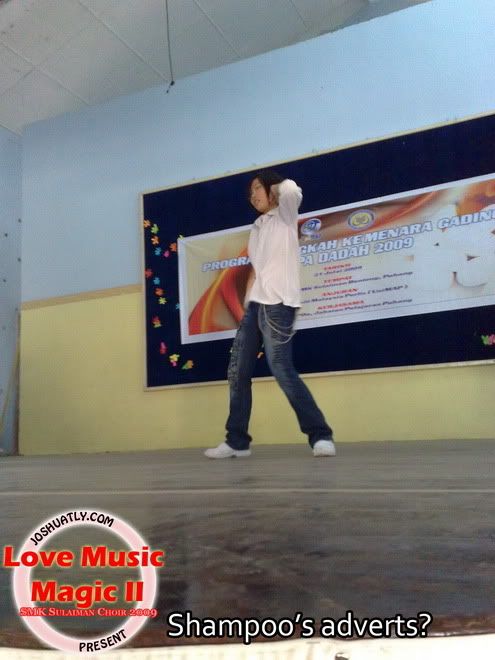 Someone go to the stage and advertise us Follow Me Shampoo!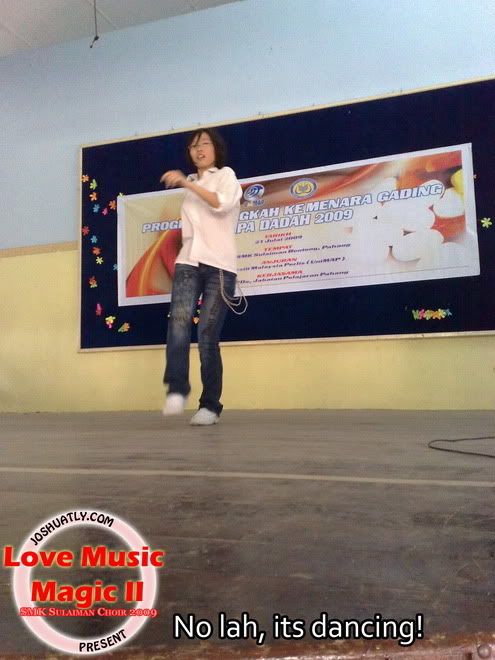 Hehe. Actually is dancing. HOT DANCE~~
After something so HOT~, they got something to cool us down….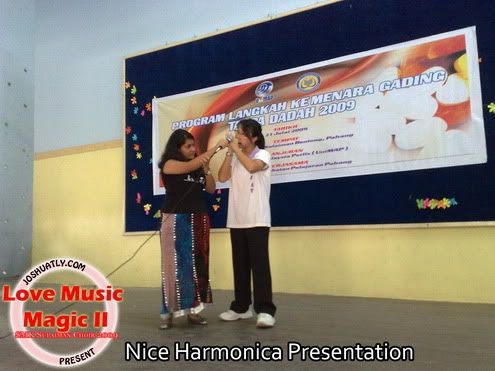 Then i take photo take take take, halfway my phone run out of juice… Haiz…
I faster grabbed Khan's SE phone to take the rest of the photo…
Remind me, isnt that bring hand phone to school ILLEGAL?!?
Why is Khan bring phone to school? And what is this?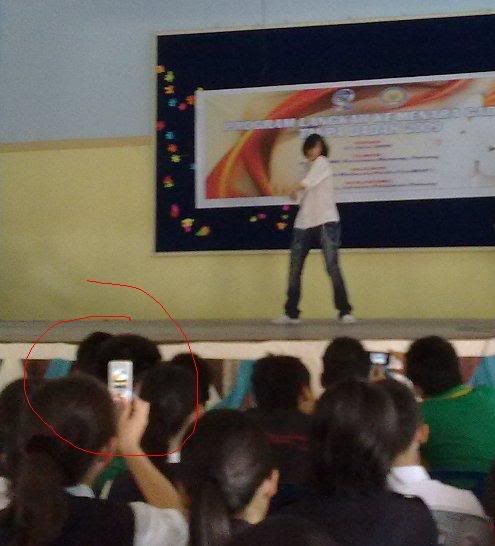 Haiz… nevermind. Before i leave the school, i also bring phone to school, and even PSP….
OKOK, for those who bring phone to school, you can blame your senior who didnt give a good example for you all…
Do mention my name…
LOL
Earlier of the post, we have Twins from HK.
Now? We got someone from TW!
Guess who?
Jay chou?
No lah.
Is SHE!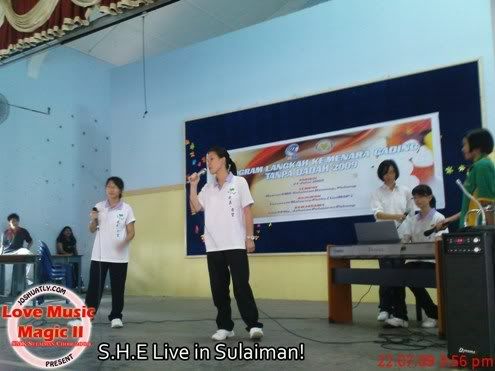 Two are singing, one is playing piano as well as sing! Great multitasking! She must be running on Inter i7 processor.
No lah. Joking.
Then, for the last event available, we have something everyone waiting for so long……
Thats…
BBOY's Dancing Show!
Sorry, the image is really a bit big. 1MB's gif file.
(For the 1st few loop you may discover the picture is lag. Wait a bit har. Its a 1MB gif file anyway.)
Hope you enjoy it…
And now latest updated with BBoy's Dancing Video! Enjoy!

Then, thats the end lah for the concert. Everyone bye bye.
Overall of the concert is fine and quite "enjoyable", (since most of the time im fooling around only)
And i discover something interesting so i posted up here and gave some comment
Dont so serious, OK!?
1st ly, hm… seems something wrong with the poster…
If u havent noticed that earlier, i will point it out now!

Macic! New english word! Soooo… creative! LOL

Eik, me also creative one leh! Suddenly i discover something is wrong above jia en's head
How come got three flowers de…
Then i add the caption…
"Xienz" means boring…
LOL
Jia en wont get mad de… Jia en wont get mad wont get mad wont get mad…….
Then this too
(im boring right… yea. im boring…)
cos sitting too much at home le… Haiz…
Eh, dont u need start packing le?
Ya loh hor, almost forget liao… xD
Then one wierd thing about the concert, why do they like so much to use 人肉Mic Stand, instead of the normal one?
I can almost get a gallery for that…
See…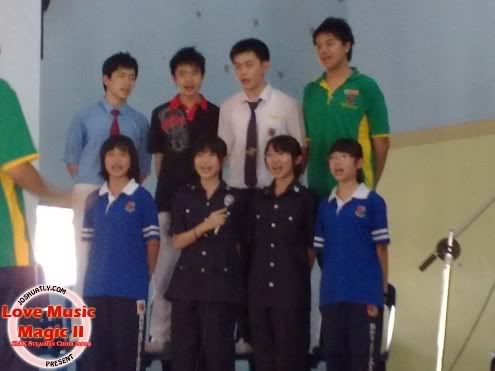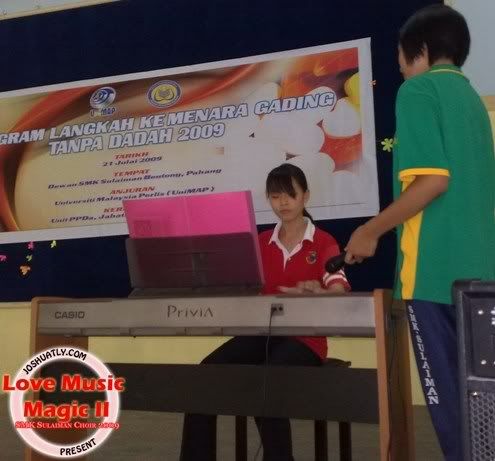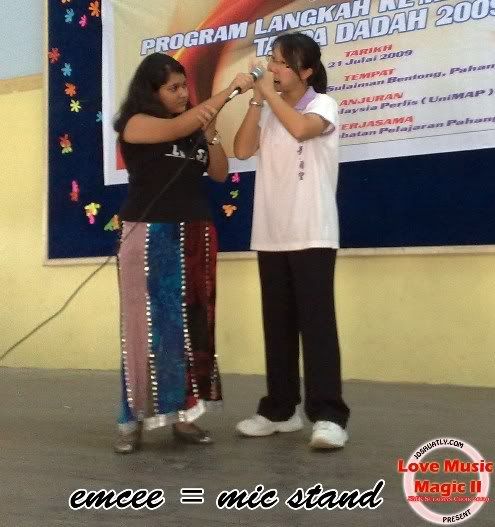 Its a LOL a school cant provide enough mic stand (i doubt that) or they dont want to use it for dunno what reason (i think so)
XD
And and and…. one more thing, there is a 小插曲 just after the choir finish singing…
A form 5 boy go on the stage and give a flower to a form 1 girl @.@
Haiz… this kind of scene i saw too many times, 50% of them were fail.
And of cos, the boy was rejected…. (as expected)
[before the concert started, i was told by someone that this will happened , and he told me to take photo summo, but i fail to do so… LOL]
What an interesting concert!
Well done Choir club.
And hope you all will get a cable for the piano…. (i told jia en how to do that, and if she dont know, Marcus should know how), by doing that, u wont need someone to take the mic and stand beside the piano anymore!
Bye, choir club.
All the best!
joshuatly2009
p/s: If i wrote something that hurt your feeling here, sorry loh. WHY SO SERIOUS?!?
pp/s: Actually i want to make the logo "K-On alike" But phail to do so. Haiz… should learn how to use illustrator or photoshop more.
ppp/s: This is the 2nd gif done using photoshop… quite ok rite!?! never thinked of i can did sth like that. Thanks for my bro's idea!
pppp/s: Dont mind my lausy english. My english is getting worse and im not in the mood to check my english grammar, and everything…. Ignore that. I use pasar english!
ppppp/s: Credit to the BBoy dancing video: Originally shared via Facebook. Uploaded by joshuatly on YouTube (without permission actually… LOL). Videos Posted by Jovindran Yap.