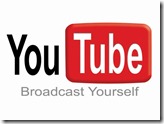 Hmm…. since when… i think is two three months ago, i started to youtube a lot…
A LOT MEANS…..
i can subscribe to mroe than 5 channel in one day… and this continue for almost two weeks…..
Till now, i subscribed to almost 100 channel which actively posting video everyweek, and everyday!
WHY? WHY is youtube so interesting?
YOUTUBE is so interesting, cos a lot of videos that can make me LMAO!
The first youtube channel i subscribe to is…
RayWilliamJohnson's channel
He upload 2 videos a week and review 3 viral videos on each episodes!
And i like his style of doing vlog quite a lot!
On youtube, i can LEARN from there too!
Like pogobat's channel
Cover a lot of things from the early rubik cube thing to now almost every topic of interest~!
Every episode of it i learn something new…. and make me want to learn how to play rubik cube… But my 1st question:
WHERE TO GET A GOOD AND NICE RUBIK CUBE?
If you know, lemmi know!
Other than that, at youtube, a lot of meaningful things going on…. Like #p4a (Project for Awesome 2009) which just finished not long ago (I missed the event since for that two days, im on genting having fun with my friends!)
Other than that, youtube also cover a lot of movie trailers and bring me beyond the trailer!
Youtube also blown my mind off! With musics and stop motion thing!
All made by mysteryguitarman
He make music using rubbers…..
Parking meter OMG
Playing guitar, BACKWARDS…. WHAT THE HELL IS THIS! OMG SO GENG!
Making my DREAM LAPTOP!
Music using CUP!??!??!??!??!??!?!??!
Oops…. a bit too much of his video…
BUT MAKE sURE YOU WATCH THEM ALLLLLLL!
AND SUBSCRIBE!
Last stop motion video:
One more thing about youtube, is you can play games on youtube…
Dont believe me?!?
You can play snake on youtube…
Click here to start playing
Or you can play a game like YOUTUBE
Who Wants to be a YouTubillionaire!?
Many many more games and interactive videos on youtube…
Lastly…. PARODY! One of my fav thing that i can get on youtube…
A lot of song's MV parody, Ads parody that you can find on youtube!
and also cute cute thing…… Like this boy
OKOK. thats all for videos…
Make sure you check out the 31 best youtube video throughout the year!
http://www.youtube.com/newyears
Thats all….
See, i spend so much time at youtube and once you call me to share videos, i can share tons of it! I hope u will like it!
OK. last few questions for myself:
How long do i spend everyday on Facebook?
1 hour (Erm, seriously streamyx make me cant go on youtube…. sad)
Is there possible for me to went off from facebook for ONE day?
Yes…. as long as im using streamyx
Longest continuously time on facebook?
6 hours! Yeah! Crazy man!
You may want to read the previous topic of this series:
How Do I Spend My Time Online: Facebooking…
And next should be either iTunes or reading blogs etc
I hope next post will be up really soon!
joshuatly2009