Im planning to write a few post (Not enough to call a series of posts) about how do i spend my time online, and at first i wanted to name it "How Do I Waste My Time Online", but thinking of some of them are actually not wasting time so i will rather name them at the current way! Haha
First post, and of cause, if Facebook! Yeah, the best time waster!
How long do i spend everyday on Facebook?
2-4 hours or more? Probably
Is there possible for me to went off from facebook for ONE day?
IMPOSSIBLE! The only possibility is my  internet connection went down and no alternative way for me to go online (like on my phone or go cybercafe etc)
Longest continuously time on facebook?
Maybe 6 hours i will say… Im not that sure anyway!
Wow, thats a really long time. Whats so interesting on facebook that can make me spend so much time on it?
APPS!
Yeah! If its there is a facebook without application, probably i will spend probably half an hour to check their wall status and get connected to others…. End of story.
When i first join facebook, i didnt touch any facebook game, cause i know its addictive, and too many of my friends are in it… And i remember i joined the facebook game world after my STPM, when my brother playing Super Poke Pets. And i joined him also! As predicted, more and more games i play, and more and more i get addicted…..
Until now lah!
Then what apps do i use everyday?
Lets have a peek on what apps shortcut do i have on my facebook…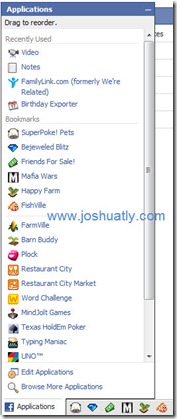 Yeah, on my shortcut bar,
SuperPoke Pets. anyway, im bored with this game…. nothing special. cos now it will take half a month for me to proceed to next level =.=
Bejeweled Blitz. This game i tell you, one minute for each round, and i can keep on playing hundred times and still doesnt feel bored and without wondering that i had already waste almost two hours on the game OMG! But im still not good at playing the game, others can get up to 440k score but max i can play till 175k only. Any secret to share?
Friends For Sale. Actually who the hell came out with this idea that you can buy or sell your friends and let them become your pet and clean the toilet for you?!? Anyway i enjoyed that LMAO! But this is not a game that i will logon and play everyday. A bit lame actually HAha. but i enjoyed the lameliness of the game… (what word is that)
Mafia Wars. mafiawarsmafiawarsmafiawarsmafiawarsmafiawarsmafiawarsmafiawars
I can go crazy with mafia war already. A Webbased game, no flash and animation? Na. other than the loading animation only z.z but a damn addictive game!
And cant believe that i actually reach up to two hundred something level d. This game  wont end eventually…. you can reach up to thousands and million of level i think LOL
I manage to 2 levels per day, and 3 levels if lucky enough! Want to join my mafia?
Hehe
Happy Farm. One of the many farm game i play. Just… is farm game.
FishVille. FishVille! Another good cute and addictive game! I played for almost a week, and already Level 20! Yeah! I just got my 3rd tank when im blogging this! The fishes are cute and….. im so sad cos i forget to wake up and feed my fish…. Walao, and i even tweeted that XD
Now Applications PopUp Bar, bunch of applications there, some i already dont play for very very long, like Restaurant City, cos i use hack to reach max level in one week i think LMAO. No more fun already!
Barn Buddy. Stealing put bugs, and weeds is the selling point.or else, another farming game….
Speaking of farming game, the one i enjoyed so much (for i also dunno what reason) is
FarmVille. Seems that zynga got some magic that can make me addicted to their game… for unknown reasons! GENG! I can spend almost half an hour to play this game… from harvest, plow, and seed my farm… Good game to waste time!
Lets see my farm…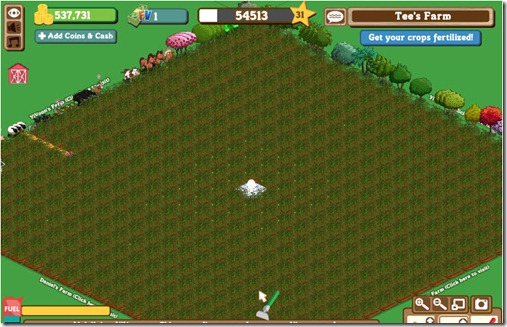 (Yeah, my connection is slow enough things are not fully loaded)
Others? I used to play it, and not playing anymore. WordChallenge, Typing Mania are good games also!
MindJolt Game is a crazy apps that got damn many small flash games inside! I think i collect them from the web and many website does that too!
Erm, i think thats all about games…
Please DONT recommend any games already! Im enough of it! I wanted to stop cos i cant study well if i continue play like that!
Other than playing games, I watched videos, and go through interesting links other people shared. And i shared some too! If you interested to add me in facebook, do a search "Joshuatly" and Im the only one using this name on the net currently! But please state where you come or else i will reject your request if we have no friends in common or i dont know you! LOL
So, now is the time you share something
Are you addicted to facebook? How much time you spend and what you do on facebook?
Share in your comment below!
More of "How Do I Spend My Time Online" posts coming soon…
joshuatly2009
p/s: Rewatching Jay Chou's 2007世界巡回演唱会 again while writing this post!