This year's April Fools' Day drop on Friday, and for once i thought this year will have no fun since i dont have any class on Friday…. But till i meet Cerventus where he gave everyone a perfect trick to pull on our friends… APRIL FOOLS' BIRTHDAY BOMB!
The idea is simple, change your facebook birthday ahead of time to April 1st, and since people have the habits to wish people on facebook when they had birthday, lets get a bunch of friends and pull this off together and get some good LOLs.
And…
See what happened:




So many friends have birthday together! I hope tonight got party! LOL
Before 12am last night, Jie Hui had found my "secret" and post on my wall… OMG how come he found out so fast, even before april fool LOL
Anyway, my trick still pulled off pretty well. Tons of friends wishes me, and a part of my friends which really know me well, and know that my birthday is actually on 31st August which is the Merdeka Day (Independent Day of Malaysia) do wishes me with a laugh haha. How smart.
Actually i thought mine trick wont pulled off so well since my birthday is so easy to remember, most of the friends that know me well have that in mind, but it turned out, some of them either dont forgotten about that, or the wishes on facebook thing had become a natural response when they saw the birthday list on the right side of their facebook. Which also means that the wish might not be since sincere enough. Im just sayin.
Thanks Cerventus again for teaching me this trick, had been having so much fun last night till now, and here are some of my "success stories".
From the screenshots, you can tell some of my friends are really smart to respond on this.
Thanks for all the wishes. I love you guys, Happy April Fools' Day!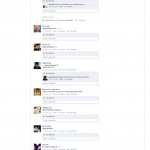 (Click for the full picture)
And again, My birthday is on 31st August. Dont forget to send me some love on that day, some gifts will also be good!

joshuatly2011