Hey guys, do you muka-buku aka facebook?
if YA, had you own your very own facebook username?
If NA, WHY dont you ACT NOW!?!? Before your name taken by somebody else!!!
For those who still dont get what is facebook username, here is the story!



(One picture worth a thousands words)
UNDERSTAND?
LOL
Still no idea?
See MINE!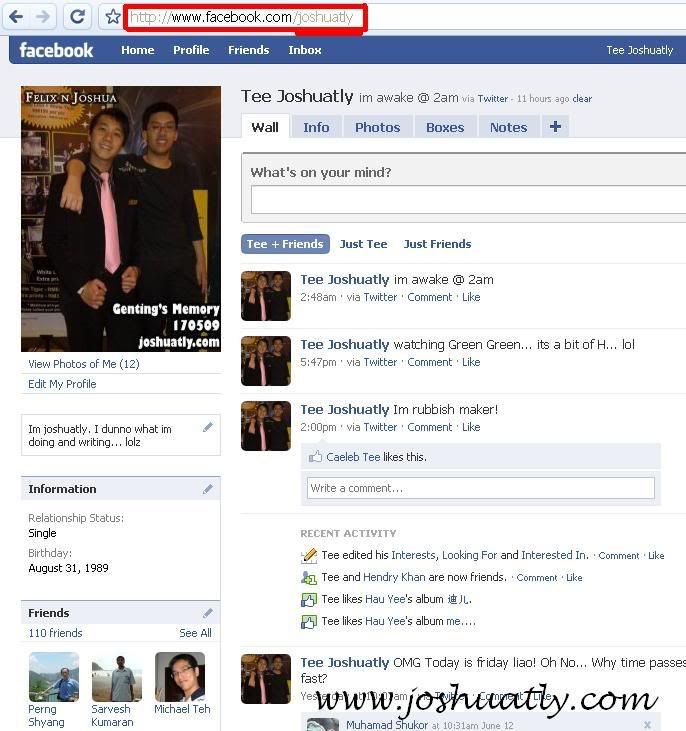 Well, hi all, my facebook profile is no more number.
It is:
http://www.facebook.com/joshuatly
You may want to know WHY i (or everyone else) wanna do this,
My answer is all in a video!

IM NOT A NUMBER!!
So, HOW to do so!?!
Easy!
Login your facebook
Then point your browser to: http://www.facebook.com/username/
Grab your username, then check availability,


If available, fast fast click YES!
If not available, fast fast search for another one!
Search one that you like the most! Its FREE~
LOL
After all done (I did it in 5 sec), you will have your very own profile URL.
Then you can tell the world IM NOT A NUMBER~!!!

Mind share what username you choose?
If you get into trouble in the process, ask facebook for help!
joshuatly2009