ADV by Nuffnang and Project Alpha. Sponsored by Adidas.
Football=Adidas?
Talking about football….
How many times i played football?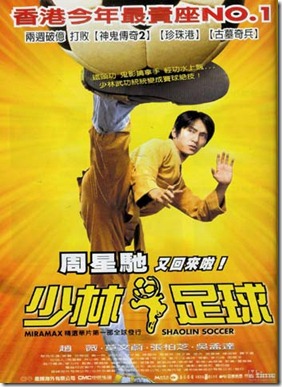 when watching shaolin soccer?
or playing computer game…
How about REAL football…
1? 2? nope, there is more.
Still remember at PJ time when im in secondary school, they play football means im not able to play anything, or i will just stand at one side of the goal, or in the middle of the football field, hoping the ball will come to my leg and i can kick some balls 😛
Then after i leave my secondary school, where im able to play football is on genting. We play football at the First World hotel parking lot! LOL Its fun.
I join some of the game and from playing that, i definately knew
FOOTBALL = ADIDAS!
We sweat really a lot a lot although we are on genting, a cold and chilling place wont stop us from sweating like hell. So this is where Adidas come in place.
Adidas will make sure we always smells good! Since it will protect you from…. the alien come and make u smells bad LOL
Im sure im protected and smells good with Adidas Action 3 – the first absorbent anti-perspirant deo spray by adidas with a triple action!
Yea project alpha, here is the episodes from ep29 to ep 32.
You can see how the snake KY go into and have some good time with his friends, SNAKES…
HEHE
And also tiger shaolintiger going into the tiger cage? Probably! Hehe
Watch them all at http://projectalpha.com.my/
Episode 29
Episode 30
Episode 31
Episode 32
Thats all for this post! Hope u enjoy the adidas and my football story and the project alpha show!
joshuatly2010
Project Alpha is presented by Adidas Action 3 and supported by P1 and MAS. The Project Alpha bloggers will be at the Adidas Pure Game Ole KO event on Friday (May 21), from 7.30pm-8.30pm. Catch them in action!