UPDATEs….:D'Campus/DiGi Campus had changed name to DiGi Prepaid Campus!
FML
A LOT OF UPDATE (2/4/10 5:21PM)
Update 3/4/2010:
NEW POLL about DiGi Campus New Rate. Please fill up the poll HERE!
You Can Tweet and Share This Post on Twitter and Facebook by clicking on the logo below:
Share On Twitter:

         Share On Facebook:

Please call your friends to fill up the poll by clicking the two logo below:
Share On Twitter:

         Share On Facebook:
Update on Poll Result: You can check it out here: http://bit.ly/dlKwN5 (Not real time ok?) LOL Please call more people to do the poll thanks!
Seriously, i should be doing my assignment now but i cannot tahan and too angry and need to write a post aslo!
So this post consists of two parts, STORY and FACTS!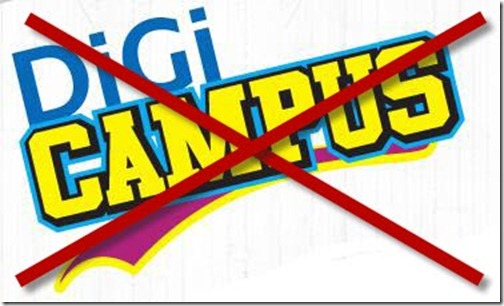 STORY
12.00am 1/4/2010
As you know, im a loyal fans of DiGi. I never use other service provider other than DiGi!
I promote DiGi to my friends, on twitter and sometimes on my blog too!
But starting from today, DiGi had become another Streamyx……. means…. SUX TILL MAX!
I really dont like to use bad words in my blog, twitter and in any part of my life.
But today, (not that i had been pranked by anyone…) i will say F**K U DIGI!
4.00am 1/4/2010
Today, i woke up at 4am, not enough sleep, planning to do some homework, ended up doing other things, not being productive, make me very down, very unhappy.
8.20am 1/4/2010
Go to class, APIIT wifi is 5 thumbs up down (how can one have 5 thumbs?), so i use DiGi 3G broadband to online.
Before this i had been super super super happy with DiGi 3G broadband plan. RM30 for unlimited surfing! Pretty good and affordable for a student!
Even some of my friends port in to DiGi because of this! (Esp those using iPhone from Maxis…..)
Today i surf as usu, i get a message that i used more than Rm2 (which is pretty normal), and another message that saying my internet usage tier hit tier 1! (Which i assume i already used up to RM30 for my internet for the month!)
But one of my friend come in and say… U STILL USE YOUR DIGI TO ONLINE HERE? RM5 Per day WOH!!!
RM5 per day WTF!!!!!???????????????
So i go and check my SMS (SMS from DiGi that i received weeks before , saying the unlimited call after RM2 had changed to RM2), thats all i get, no change of Data Plan informed.
And so i checked their twitter, facebook page, and also website.
Not even a single news on this!
Then my friend show me the message, i say:"SURE BOH? April fool lah!"
Then i start to wondering…. Will DiGi prank their loyal customer like this?
9.15am 1/4/2010
I typed *126# and check my balance:
RM135… WHATS UP? I calculated before i use i got RM142 before this. What happened now isnt RM112 or something like that?
I checked back the tier sms i received just now…. and i realised that it isnt april fool.
9.52am 1/4/2010
I received the SMS saying that the rate for Data and 100min changes will be implement today also! WTF!
10.24am 1/4/2010
I called up DiGi center and talk with their "friendly but stupid" consultant…. calling them to explain the changes of the plan rate…
They still say it is RM30 per month…..
Sometimes they say RM5/day…..
As my teacher said, Consultant is the people who CONFUSE and INSULT people….
Thats true!
10.46am 1/4/2010
i keep on refreshing the website, and for few seconds the page is down, and at 10.46am, they updated their website. FINALLY! I strongly believe that im the 1st one who viewed their new sucking website.
Checked new rate, heart broken.
RM5 itu sudahlah tak-ade lagi………….
DiGi had been cheating on their loyal customers…..
10.52am 1/4/2010
Submitted a complain to MCMC at https://aduan.skmm.gov.my/ with Ref number 0008/04/10, Mainly for not informing the change of data charge rate.
(They MUST reply to my complain within 3 days…. im still waiting… )
[9.28pm 1/4/2010 still no reply from DiGi, status: BELUM DISEMAK]
After 10.52am 1/4/2010
See how @DiGi_Telco Reply to many of my angry tweets:
@joshuatly What was the issue?
OK u very innocent. like the consultant that confuse and insult me!
Many angry users start commenting on twitter, and facebook.
@DiGi_Telco had been very quite on this issue. Im sure they dont deal this using DM since they didnt update me on DM on this issue also WTF
At their Facebook page (DiGi Campus facebook page)
How they react is: This is still better than OTHER TELCO!
OK. Finish my angry story, here come some facts and analysis that i had done!
NEW POLL about DiGi Campus New Rate. Please fill up the poll HERE!
FACTS
comparison of old package vs new package
old package: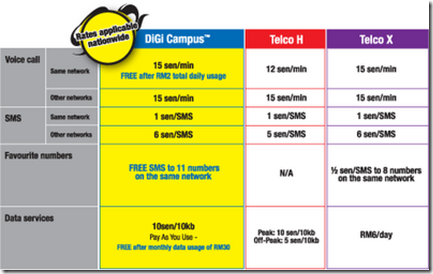 new package: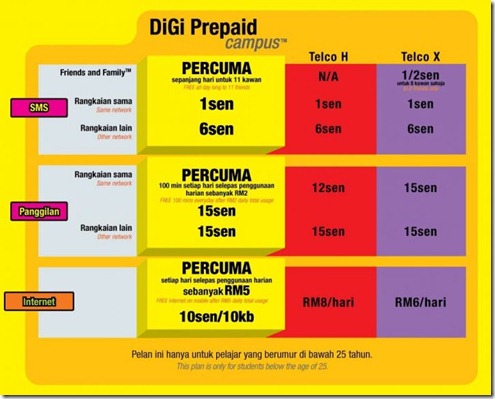 for many people, the FREE 100 Minute after RM2 usage is their issue. For me the RM5/day data charge is MY ISSUE!
But i will analyse for both cases also!
from the two charts above you can see they move up the SMS part of DiGi Campus charge, this is because this had bacome the most interesting part of the plan, FREE SMS to all your FnF number.  HOW SMART!
100 min free after RM2 usage.
Lets assume you need to call for 3 hours per day (180 minutes), to DiGi number (FnF number sumo). Lets do some calculation:
first 13 minutes of calling will cost RM2 (167 minutes left)
100 mintes after that FREE! (67 minutes left)
67 minites at rate 15 sen/min will cost you RM10.05
Total cost: RM12!
This used to only cost me RM2 per day, now increased 600% to RM12
Done for call rate. now is internet time.
RM30/mo (old rate) VS RM5/day (NEW RATE)
OK lets assume i only use DiGi internet 20 days per month (WTF CAN I DO FOR THE REST OF THE 10 DAYS? SLEEP? WTF)
Old rate is flat RM30 only!
New rate will be 20xRM5 = RM100
WTF Thats almost 333% increase in the rate! WHAT kind of student can afford this?
Done my analysis.
Move on to learn more about the customers and comparing the plans available on the market.
You CANT DENY that if u call 3 hours per day, DiGi campus is still cheaper…
If SERIOUSLY SO HARDCORE CALLER, Why dont use POSTPAID? DiGi Family still got free unlimited call!
For Internet usage, DiGi is smart enough to want you to sign up for their broadband plan, which says "FREE MODEM" which is not actually free (if you terminate early).
The cost is RM58/mo which is still 200% more expensive than their previous old campus plan.
I WANT INTERNET FROM MY PHONE, NOT A SHITTY USB MODEM! MY LAPTOP GOT WIFI DE OK?
For those people which dont go online that much, you might want to consider hotlink Mobile Internet which cost RM2 per hour (100mb bandwidth) which is enough if u want to check some mail, msn and facebook a little. Its still better than RM5/day
OR Why dont just go to cyber cafe or bring a laptop and go somewhere go free WiFI (McD/KFC?) I think most of campus student got a laptop gua.
Or else, go subscribe Streamyx CoolUniPack!
Comeon DiGi, you are comparing with other telco but not yourself. YOU ARE GETTING WORSE! I think that you ARE SUCCESSFULLY get people to move on to your broadband plan and postpaid Maybe?
HELLO WE ARE STUDENT SAJE!!!
For DiGi campus, you are NOT DONE RIGHT in any way. Cheating your customers….
-rep of yourself…..
one more thing….. BIRTHDAY BONUS!!!!
Where the hell my Birthday Bonus?
Now replaced with some shitty rewards, like free McD Sundae with every RM10 reload?
WALAO U THINK I WILL LIKE ICECREAM MORE THAN CREDIT MEH?
BUY 1 FREE 1 Unlimited Ride and
All-day Access Pass to the Genting Outdoor Theme Park
* Valid till 27 May 2010 and not applicable during school or
  public holidays
WHO THE HELL SO FREE TO GO ON NOT SCHOOL HOLIDAY!?!? WE NEED TO STUDY!
update: For those who want cheap internet, check here http://www.u.com.my/u-broadband/plans
update2: MCMC Reply on my complain:

Complaint No: 0008/04/10

Sir,

COMPLAINT ON COMMUNICATIONS SERVICE
[UNFAIR PRACTICE] – UNFAIR PRACTICE

We refer to the above matter.

We take note of your complaint. Please be informed that we have forwarded your complaint no. 0008/04/10  to DiGi on 2 April 2010 for their action on the issue raised.

The service provider has been notified to respond directly to the complainant on the finding and action taken to address the complaint. Please notify us if the complaint is not been addressed by the service provider within 15 working days from the above referred date.

Should you have any other enquiry, please do not hesitate to email us ataduanskmm@cmc.gov.my or contact our complaint hotline at 1800 888 030 (Mon-Fri 8.30am to 5.30pm).

Thank you.

CONSUMER COMPLAINTS BUREAU
Monitoring and Enforcement Division
Malaysian Communications and Multimedia Commission
Lets see what DiGi gotta say to me!
MOAR UPDATES:  Malaysia Kini cover of this issue:
 http://www.malaysiakini.com/letters/127971
shit DiGi…..
Fuck DiGi
Leave your comment if you agree with me. write anything you want.
I HOPE DiGi will contact me cos of my MCMC complain, i will help u guys say out something if u got anything want me to say HAHA 🙂
joshuatly2010
NEW POLL about DiGi Campus New Rate. Please fill up the poll HERE!
You Can Tweet and Share This Post on Twitter and Facebook by clicking on the logo below:
Share On Twitter:

         Share On Facebook:
Please call your friends to fill up the poll by clicking the two logo below:
Share On Twitter:

         Share On Facebook:
p/s: OK i wasted my 1 hour writing this. show some respect DiGi!