NEW PHONE! I just got myself a new phone!!! Its Galaxy Nexus!
Instead of doing a boring long review of the phone, why dont I write how i uses my new phone everyday.
Below recorded my first 24 hours with my new phone, Galaxy Nexus.
Maybe I should start about getting the phone. I've been wanted to get the phone for a very long time, I started talking about it since last year, and last semester. But isnt till recently Samsung brought the phone to Malaysia, and also when the AP phone dont cost RM2400 anymore. When the phone first released (on DiGi and then Celcom), I planned to get the phone via DiGi from their DG48 plan (along w/ 1 year contract). The cost of the phone along with a 1 year data plan is about RM 2300, affordable I can consider. From that time I knew I will buy for that plan, I just need to wait for a good time.
Im thinking probably after CNY since I got my ang pao money by then, but soon after that only I've discover that DIGI HAD NO LONGER OFFER THAT PLAN!!! WTFOMGBBQDIELOHME!
It made me quite sadding for a while, then I start hunting for deals online. By the time I wanted to order the phone, then only I found out that the WHOLE KL GALAXY NEXUS is OUT OF STOCK!!!
I paid for deposit ordering from a forumer from lowyat (his thread here, good guy), but since he has no stock, I've had to wait till yesterday (sunday) till I get the phone. I've waited for so long that I started to PM/SMS him every day, and annoy the hell out of him. Haha, luckily he is a very nice guy and dont get mad at me 😀
And yesterday I went to his place to pick out the phone!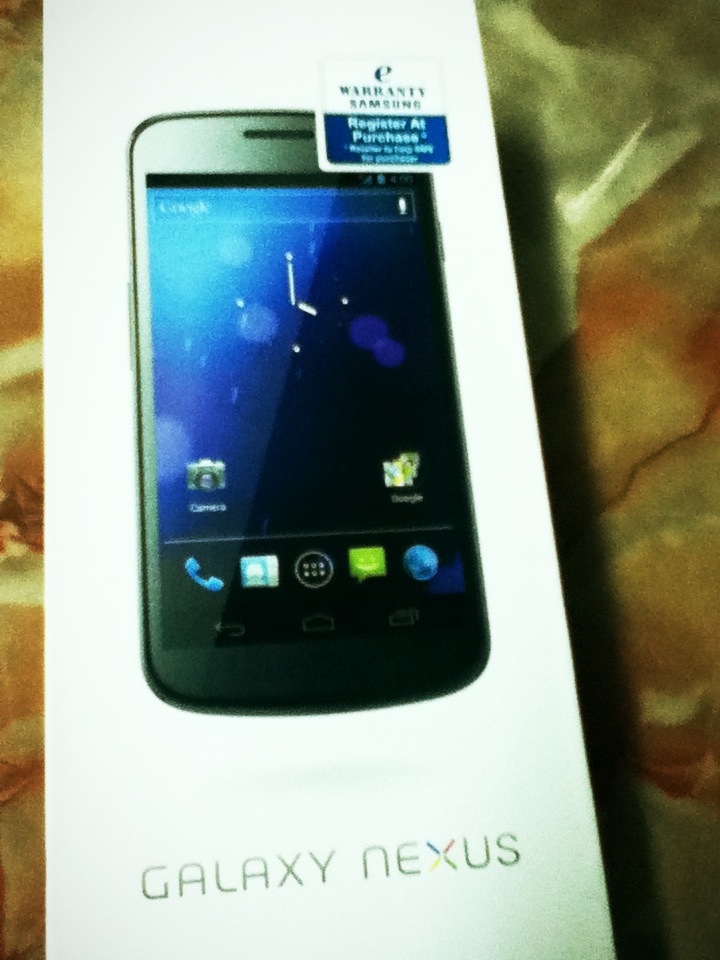 (Send from Path)
YAY NEW PHONE!
Briefly, my first 24 hours experience with my lovely new phone!
OMG Galaxy Nexus is SIBEH BIG! If compared to my Desire Z. Pic below.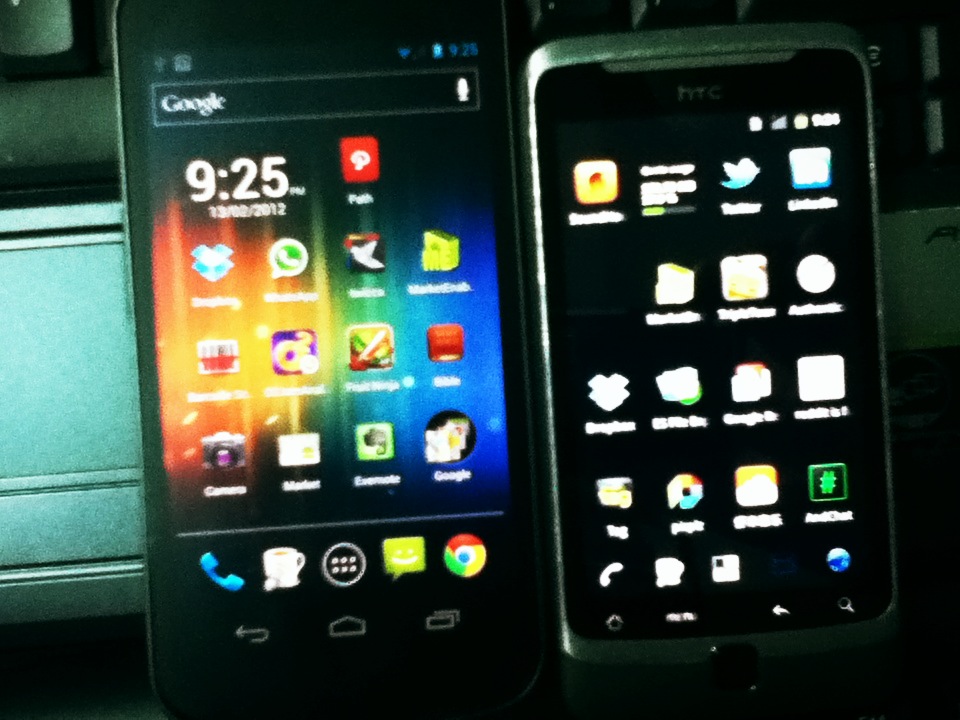 The screen looked REALLY AWESOME!
BUT! 4.65 inch screen, thats FREAKING HUGE! Even with my big palm, I can barely reach the top right of the screen if im holding it with my left hand (operate with one hand is kind of…. too big). I cant even imagine how am I going to use Galaxy Note =.=
And, even thou the screen is amazing, the matte screen protector i applied is really annoying. The screen looked a lot less crisp and great. Probably, the screen protector will stay on for another day, and I will just let my phone be naked lah. Just like how i torture my recently bought iPod Touch (which is now have scratch all over the back, and one major scratch on the screen)
Out of topic stuff. I really doubt the latest iPod Touch has gorilla glass… grrrrrr apple… WHY!!!
Back to the topic. Ok, i hate my screen protector, and then what else… Yea the back cover. I like the back cover very much, the touch of it just feel… Ooooooo so great. BUT!!! When you open it, its so hard to close it. Everytime I open and close the back cover, my heart beat so fast. I have a feeling that i will break one of the "leg" every time. Haiz… I heard its the same with Galaxy S2. SAMSUNG WHY?!?
Have to say, Samsung's phone all feel very plasticy, while HTC's phone feel solid in hand.
About the phone hardware, other than the screen is sibeh big, the hardware is just normal. Im really scare after buying this phone, bunch of quad core phones will come out, and make my phone become the lousiest phone in no time. Just like when I get my Desire Z, it uses the last generation of single core CPU, all phone after that will be dual core, clearly I've miss out the great things of dual core using my Desire Z.
Well, we'll see that later in MWC (Mobile World Congress).
Clearly I've bought the phone for the software Ice Cream Sandwich. First comment, its beautiful. More comment on my next post lah! By then I will have more comments since i have more time with the phone already 😀
Till then
joshuatly2012