Recently i post my photo on facebook 1st instead of on my blog…
I also dunno why.
But dont feel like posting at facebook 1st is better, maybe later will change back to old method…. Blog 1st
BUT the problem is when i post on blog, i wont bother anymore to post it on facebook…
APA LAH!
wakaka
So before we go into the topic, just some "old things" to blog about.
Its about my LAST genting working experience….
Its pretty good.
I dun 1 to post the photo here. If you are interested, go to my Facebook photo page.
Anyone can view it!
Just some little comment.
On those days, it is my 1st time to play football… also the 1st time with shukor and felix they all.
My 1st time to become a lausy goal keeper (of cos lose at the end) and 1st time fall down becoz i step on the football (WAKAKA) Dont laugh!
Then after the game we chat and chat and chat with felix and he share a lot of things with us.
I learn many things from him too!
On the last day, we take photo with Felix and Shukor. (As you can see in the album)
Then Felix become the model, everyone take photo with him…
LOL
What a crazy memory.
OK. Lets go on to my classmate's gathering last friday…
As you know, those girls (esp Yean Kee) are CRAZY…
They like to start the gathering late and end late….
We start at 9pm… When i reach Yean Kee's house, SO SURPRISE they say they havent had their dinner yet, therefore they do steamboat…
WALAU eh… I know nothing about this. I recieve SMS that stated eat makanan ringan and chatting only…
And the other thing make me =.="" more is…
They start preparing only @ 9!
WT*….
So when start preparing @ 9, means start eating @ 11…
XD
So…


Some of us are "helping" @ the kitchen
(eh, why the helping got inverted comma de?)
Oh, cos some of us are just fooling around and chatting inside there…

And some of them just drink and drink and drink outside…
or watching TV…
Or Do NOTHING…
lol
After N hours of preparation…..


Yeah! Foods are ready to eat…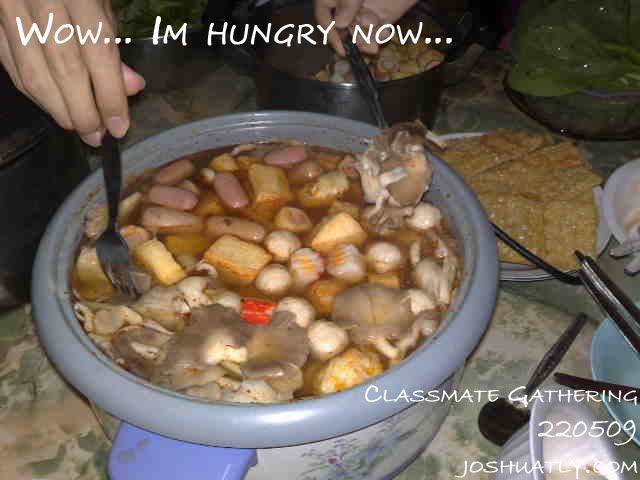 When foods are ready, we all are hungry…

So… Grab and RUN!

We eat and eat and eat
and also chat and chat and chat
we eat and chat and eat and chat and eat and chat
There is all the gathering is about!
RIght!?!
And one funny thing, when some cooked food drop onto the floor, mummy teach us not to waste the food.
So we pick up the food and eat….
(ei yer…)
Oh sorry, we give the food to BOBO….

The Dog with Bolt's superpower! and also eat our foods!
so it is like dog eat hot dog, hot dog eat dog, dog eat dog, hot dog eat hot dog
Then suddenly
blog post interrupted with a quiz:
如何用三盏灯和一张凳子营造紧张的气氛?
Answer: 灯灯灯凳
=.=
Why 灯灯灯凳?
Cos… all lights off…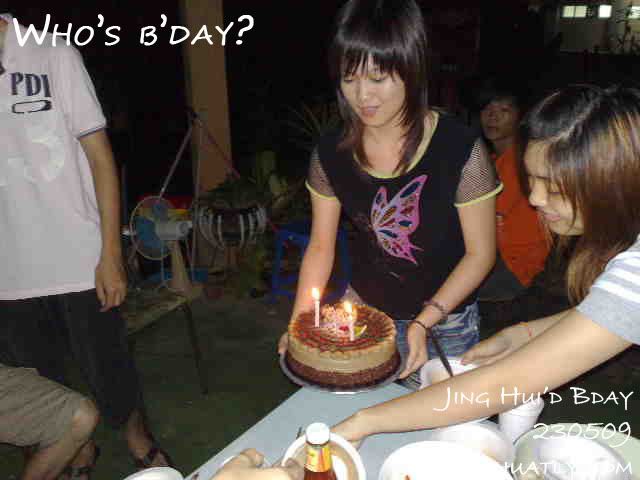 And Yee Chen take out a cake…
Who's bday?


Of cos Jing Hui's lah!
So lets look at a picture of the cake…


Before Jing Hui eat it up!

As usu, we sing bday song… terribly (although most of us are so called sulaiman's ex choir member…)
And Jing Hui's mission was:

This ended up…


And we keep on laughing at a side…
Wakaka…..
And of cos…
Couples must take photo…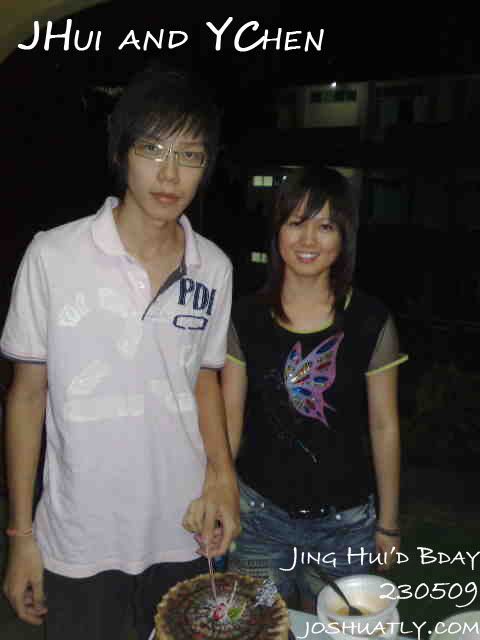 When we all started to stop eating, we discover still many food left.
So we play games to "clean up" those foods…


We play cards game….
And keep on crazy till 2.00am
There is a big difference before we started and when we all wanna leave…
BEFORE:


AFTER:

We clean up before going back home…
And when i reach home, my mum scolded me… cos back late (i told her i will be back before 1am… and she told me to be back before 12…..)
=.=
Anyway, we were very happy and enjoying…
But next time dont too late lah….
Note: You can view the facebook album here:
http://www.facebook.com/album.php?aid=2023152&id=1360684792&l=21ab347e75
joshuatly2009