These two days i had been visiting my school's choir practice. Actually is go kacau-ing around…
Haha.
Since long time didnt write blog post, i write a little bit about their's choir lah.
I visit to choir practice these few days mainly is before i really miss they all a lot, plus the last time i went visiting them, i went home halfway cos of raining and i went there by bicycle…
but ended up also all wet when reach home… xD
I was so interested in how well they can sing, in fact and as far as i know they sing much more better compared to our group last year.
They have a sweet voice, so harmonize, and so on and so on.
And the big differences between choir 08 vs choir 09 is this year's choir have more "young" members compared to last year, all sixth formers… lol
And if im in this year's choir, definately less fun cos no more big big gang (sixth formers) and they all are too "good boy" and "good girl", not like last year, we all make Jia En angry, and make her laugh…
lol
Wondering why so many young (esp form 1 to form 4) students join this year….
IF… they join us last year, then probably our choir will perform better, and more leng lui loh… xD
Below are some photos i taken during the choir practice session.
On Tuesday,
I "snake" to school while i should be working at that time (of cos with boss's permission lah), cos working is too boring, so can go there and kacau, meet some "old friends" is a great thing!
They sing ABBA's song "thank Q for the music" and another not sure what name ady malay patriotic song this year….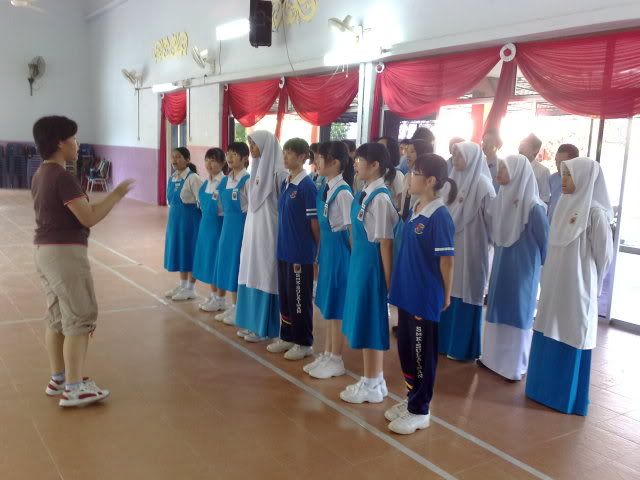 So this is the gang for this year. B-Boy be the conductor and dunno why Jia En is conducting when i take this photo… xD

Our Pianists… so glad to see two pianists for this year. The 1st picture are Jasmine (i think this is her name…) a new pianist which i dont know much about her, and the 2nd one is Hui Ru. No doubt she is a very talented and good pianist. She crazy one you know! She can play his Grade 7 exam pieces and scales without any mistakes and score of cos distinction in her grade 7… And she is taking her PMR this year and Grade 8 next year. So lets just wait for another famous performer to be born.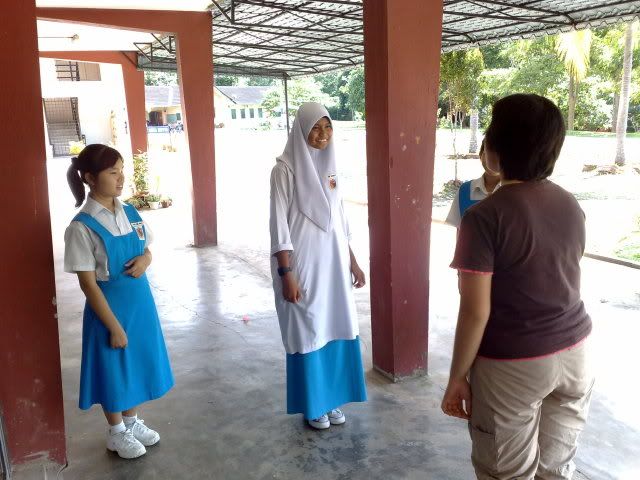 Jia En guiding the solo part singers… Hui Bing is one of them.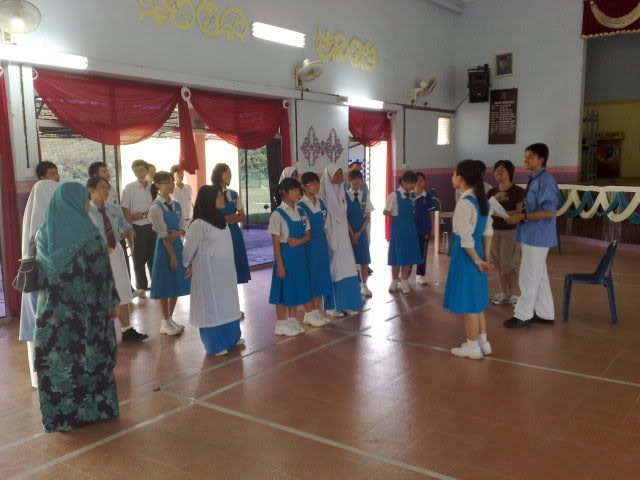 Another shot…
Then when they finish practicing, thanks ShaSha's bro LaLa (aka C-Boy) for fetching me back to work…
Then today (Wed) is my OFF day…
At 1st i was thinking of go to KL and watch the movie "Knowing" but then very lazy and dont want to waste too much money… haha. save it for later use.
Wed is KOKO day. so since choir practice is not in the original schedule, so we share share hall with TaeKuanDo…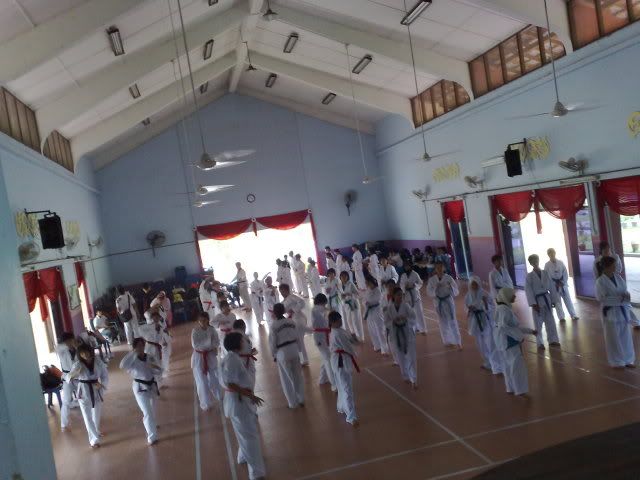 Haha,since they now share share with taekuando, choir will be using the stage only… and its easier for me to take photo since no more bright background as tuesday…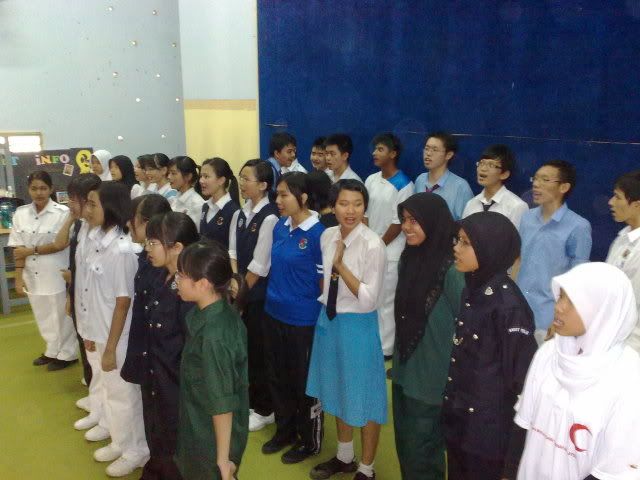 Some shot while they are singing…
And so surprise they need to do…..


Some action like "yo left you right"…
Wondering if last year, Jia En ask us to do this (esp the guys), i can guarantee she cant go back home on that day!


And of cos girls also need to do lah…
And when they add all actions in the song… some of those action make me laugh non stop.
Esp when they are singing, some of them forget to raise their hand… some raise the wrong hand… etc…
Make me and Jia En laugh and laugh and laugh… (no lah, actually only im laughing only, jia en not so bad one…)

And all in the sudden, Jia En told me… SUNNY IS HERE!
YOYOYO! SUNNY! I miss you so MACHI!
So Ah hong and sunny back to do as the "sifu" of taekuando…
And three of us (are well know naughty boy in last year's choir) of cos cant miss the chance kacauing the others choir members lah…
lol
And some others pictures of pianist:


=.= lazy to type description
And this time i also go back before they ended as i see the sky is going to cry…
Luckily i go back at that time, or else ended up like the 1st time i visit choir this year…
xD
joshuatly2009
p/s: The pictures are completely not edited since i havent install any imaging software in my new laptop. and just formatted my pc, so hehe… you wont mind is it!?!