Khm khm… la la la…. is my sound loud enough?
Khm khm… OK lah.
What should i do next?
I need to shout: BLOGGING IS FUN!
See, my blog dont have much visitors rather, im not earning much from my blog, but im very happy with it!
Blog had become one very good platform of expressing my thought, my feeling, my writing, my idea, and also share information with my readers!
Living in the blogspere is fun also, i learn and get information from other's blog! Sometimes things happend in the blogspere is how to say… WIERD, or Dramatic!
The good example is the drama showing now: Dawn Yang vs Xiaxue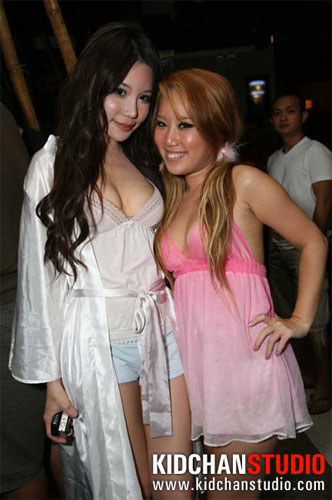 You dont know this thing? [read more]

Nevermind, i also getting know this things these days, i think a few days after the drama started, which means i miss the first few episodes.
My conclusion for this event is two famous bloggers having a war, and if you know what happening to Najib vs Anwar, it is more or less the same… The diffrences between them is just one happening in Malaysia and one happening in Singapore…
For me, i wont go and write some blogpost like this: 10 blogs that i hate most… 10 people i hate most…
Cos im not that kind of person. I dont like to have enimies…. Haha….
And recently, i started to write some chinese poem and post it up on my blog, i also post some old one that i write thousand years ago on my blog! Haha, and something entertaining things happend and here i share with you all…
This Chinese poem had bring me some….. trouble or i can say also fun and joy lah!
For those who dont know me physically, or only passing by readers or my blog readers, you will only see those i write as just a poem… 情诗maybe… Haha
But for those who meet me everyday, i mean my classmates lah, my friends….. they maybe think diffrently when reading my lovely "情诗"… Lets see whats going on…I never think of these things below will happend:
Days after i had written this post: 不可能的∙ 妳, i had started to get some sort of  "feedback" from my friends…
Got people start singing in front of me…. And they sing for ME!!! How wonderful i can say…
Guess what song that sing?
吴克群 – 为你写诗
actually they are laughing at me… too bad.
starting that time i also dont realise that they purposely sing in front of me… cos i dont actually know one of my blog post will able to grab their attention so much! And after some time they become more and more "过分", like, singing the song again and again and again, and purpose is to make me know…. And when i know what they are talking about, nope is singing about, they start asking me who the girl is….. Then they go and copy the poem and share to all my classmate… lol
Another one is neh, hui bing loh! ha… forget how ady ha, he go and ask my brother about it, and the funny thing is my brother dont even read my blog, how will he know about this thing… again, the same question, who is the girl…. Haha. lucky he ask when choir time, and when im around… if not… hm… dunno what my brother will say about me…. bad things? Probably…
BUT i remain silence… purposely loh…
Then my brother's friends start to know and talk about it ady… and more and more 绯闻 is coming out ady…
They work SO hard to find out who she is, and keep on asking me…. make me wanna laugh also cannot… cos too funny… HAHA. If i laugh in front of them, they will sure send me to the Tanjung Rambutan… lol
Then some conclusion coming out, from THEM, not from me…
Shasha is the one, asking me straight forward… even a primary 6 girl know about it… SO see the power of ppl's words? An upper 6 student's news also can spread to primary 6 de… OMG!
And know what she ask me, she say i write the poem for either miss NG or the sisters woh….
ALAMAK. I never tot that they go and predict the girl until related is CHOIR de people… and make until shasha also know… probably kee chen you are the one spreading my news to her rite! Haha. if you read my choir posts you will know who is the sisters Shasha mention about… coz i dont think they are another sisters inside the choir or that Shasha should know, or they are talking about….. Haha
I will say this is fun…
COS:
You see me you see my face got the poem…
You see me you remember my poem…
You remember my blog…
You check my blog for updates…
You analyse every single word i write to get HINTS about who is that girl…
You cant sleep bcoz of me… probably thinking who is she…
You thinking of: is that YOU? (eh, joshua, crazy meh?) Oopps, haha joking only!
Then now you think that i will give you the ans stright away in this post?
NO NO NO!
This is the fun of blogging!
Continue thinking… Continue asking….. Shasha, leave a comment lah. cos i dont see you online often, cos you online only at midnight de, siao. and tell me who bro v is… in msn if you wish!
Guys, continue singing, as i will post up more (情)诗 soon…
As i had writen quite a lot from years before till now…
See, so fun doing all these things to my friends and my classmates.
Okok, change topic, dunno why, i cant really write a good article using chinese, my chinese become so lausy ady since i use broken chinese when speaking, and dont use propre grammar…
Now become very bad, My chinese is broken chinese, my english also broken english.
All 半桶水,die lah!
Should read more chinese article… i dont read for quite long ady…
And im thinking to learn japanese after my exam. If you ask me why, my reasons are:
All of them now 哈日, so i may want to be one of them.
But more importantly, i want to play more games on PSP as quite a lot of games only available in japanese, too bad. If i dont know japanese, i probably miss a lot of good titles of the games…. Same as anime…
Haha
Tomorrow i will be watching hancock in the cinema if there is no accident.
Hancock, im coming!
Final choir post i think will be up by tomorrow. SInce i dont have to write much, just upload the photos, videos… and emble the code on my blog. Thats all.
I had finish upload all three videos for the coming choir post… left photos… and need time to write the posts
Check it out tomorrow and see!
I love blogging so much, because you read my blog post until the end!
Please kindly leave any comment or shout at  my shoutbox, especially for those who want to know who is that girl… and those who sing in front of me… so, satisfied with my "answer"? Haha
joshuatly2008