Many of us like to use these two words:
Anything and Whatever…
Like: Mum asking what to eat tonight, and my answer will be ANYTHING!
Brother asking what type or what brand of laptop I prefer, and my answer will be WHATEVER…
And probably they will reply you: Haiz… you are not answering the question…
BUT
Now, they will return you with another result : OK!
And then….
Bring you back…..
WHATEVER?
ANYTHING?
Ya, Whatever and Anything.
*"whats that, im confusing now" you probably will say!
So, let me introduce the latest soft drink

named
ANYTHING? and WHATEVER?
Interesting right… Read my review below for more!
I started to know this product by Nuffnang's Ads. Anything? Whatever? This is an interesting name for a product! So i decided to buy and try this NEW Product!
I rush to one 7-Eleven and ask, can i have anything? Then he give me a bengong face =.=
then i decided to look it up myself! Hahaha.
Looking around, i can see Anything? BUT where the hell is WHATEVER?
Well, too bad i cant find for Whatever in the stupid shop…
Nevermind, lets get my Anything?
Wow… it cost RM 1.80! Somekind of quite expensive to me, with it i manage to buy One and a half tin of Coke!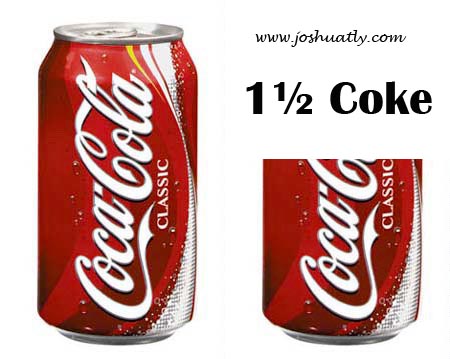 But since i'm thirsty that time, i decided to buy it and drink it immediately. Therefore i need:
Any Taste for Any Thirst, A Surprise in Every Can!
Lets know about some background of this product!
This product is quite interesting! From the name i think you will agree with me… Haha
It is a Singapore product, by Out Of The Box Pte Ltd.
Maybe you will ask: What is the difference between Whatever? and Anything?
Whats inside the can? Anything? Whatever?
YES! Inside the thing may have ANYTHING and WHATEVER!
Anything? is a carbonated drink with 6 different flavor.
What's the flavor?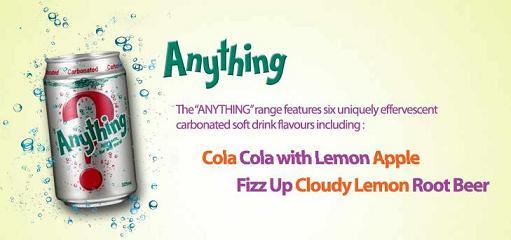 Cola
Cola with Lemon
Apple
Fizz Up
Cloudy Lemon
Root Beer
Then Whatever? is a non-carbonated drink also come with 6 flavour: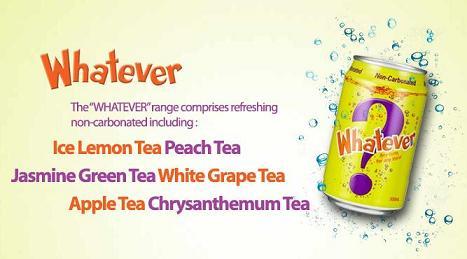 Ice Lemon Tea
Peach Tea
Jasmine Green Tea
White Grape Tea
Apple Tea
Chrysanthemum Tea
The advertisement in Singapore is quite interesting too! I dunno what is actually happend, but they say they put those tins on the sign board, on/in the bus, and then being reported the empty cans are being opened and caused rainwater collecting and becoming breeding grounds for mosquitoes.
The TVC Is also interesting! Expecially the Whatever's Ads! Pretty funny! And if you want to watch, can go to their official website [http://www.anything.com.my/] and click for Media! Streaming and Download are available! Even The Making of is available for download! Interesting!

Well, i havent try Whatever out, and i wanna try it asap. Lets me give some rating 1st to this product:
1st ly, this product is VERY interesting. Because they didnt state what flavor of that can is, and this make the product so interesting to me!
2nd ly, the taste of this product is….. well, i try one taste only, orange taste (i think is cloudy lemon), it is more or less same like f&n one, but i should say f&n is nicer. And my friend get the coke one, and he say he prefer coke also… Maybe we buy this product for surprise and design!
3rd ly, i like the ads VERY VERY VERY much! And really, i expected more and more surprises coming soon, and i hope they will do so!
4th ly, the website design is quite nice, but the only thing is it cant scroll in firefox… need a better view maybe! Haha
So, feel like wanna surprise now?
Head yourself to 7-Eleven or Jusco to grab your tin!
Maybe you want to drink all 12 flavor, but i dont think i will do so cos no money…
Maybe the company want to sponsor this post? lol…. [p/s: I DONT get paid to write this post!]
The website:
Visit it! Get it! You will like it!
joshuatly2008