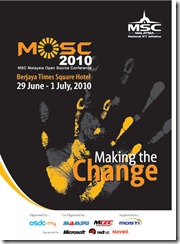 Woo Hoo! #MOSC2010 is finished. The talks was OK. I missed few sessions due to i woke up too late LOL
There is something i would write about the event #mosc2010 as a whole.
First thing, T-Shirt, they said that 2nd day the price will be RM40, but today, it was still RM30. Who knows Day 3 will be RM20?!? Stupid me.
Got cheated (not actually, but just dont feel good about it)
Spammers at twitter….. Someone actually setup a quote bot to try to win the contest. That guy spammed 400 tweet in 3 hours (although there are few of those tweets are genuine, not from bot lah). So annoying…..
Food is good as usual.
WiFi at business track got some problem and i saw they are are fixing it…
Exhibition not much thing, refer to liveblogging day 2 morning sessions for more pics
And, good to know there are MOAR PRIZES for the lucky draw!!! But i was not that lucky today, will wait till tomorrow lol.
What else….. pretty much thats all feedback i got for today lah.
I enjoyed most of the talks today.
Tweeted a lot (hoping can win a PS3 tomorrow….)
Blogged a lot (hoping can win a PSP tomorrow…)
Learnt a lot of things…..
And had a wonderful day.
Tomorrow Day 3 im very looking forward to it.
Last day of events, some interesting topics to be given…
MORE prizes hopefully…
Good night and follow the liveblog tomorrow!
joshuatly2010