当你看到一只猫在你门口,你会做什么?
What will you do if you see a cat in front of your house?
当你的屋子是在十八楼,你遇到以上的情形,你又会怎样?
What if your house if on the 18th floor, what will be your respond?
那天放学回来,那只猫吓了我一大跳,他又不跑走,就在那里跟我"你看我我看你"。我不知道要有什么反应,结果就。。。
I was frighten by that cat in front of my doorstep after i went back from school.
I totally dunno how to respond since the cat dont run away but look at me….
So i…
问它问题。。。
Asked him question…
"你搭电梯上来的吗?"
Do you come up here by lift?
……
……
……
……
然后怎样?
Whats next?
我就在站那里大笑,想象着一只猫怎么按电梯-十八楼,然后走到我家门口等我放学。。。
I was laughing non stop in front of my house, having the picture in my mind that a cat, went into a lift, then how on earth he press the 18th floor button, then come here and wait for me to back from school WTF!
LMAO
然后怎样?
Whats next?
那只猫还在那边,不要走,还是看着我,还对我喵一声!!!
The cat still there, still didnt run away, still looking at me, and "MIAO" me summo!!!
我知道他在想什么。
I knew what he is thinking…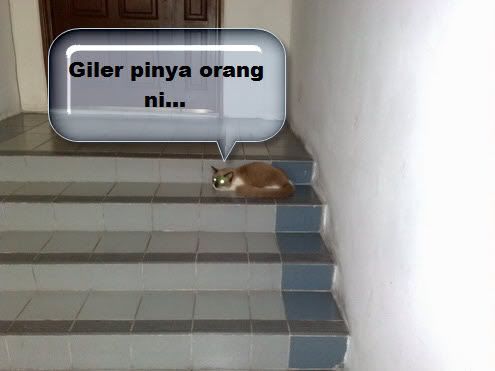 是,我疯了。我问一只猫问题,对着一只猫笑,大笑。。。但我控制不来。LOL
Yes, Im crazy. I asked a cat question, I laugh in front of a cat, but i cant control all these… LOL
What will YOU do when you saw the cat? In front of MY house?
如果是你,你会怎么样?
joshuatly2009