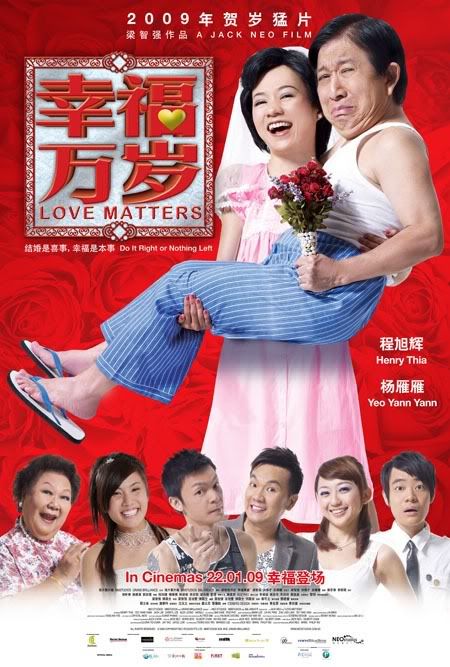 很久没有用华文写post了。但这次也不是完全用华文,会有很烂的英文翻译!哈哈。
在去做工几分钟前才一边拿着饭碗,一边打这个post。所以写短短。
很久没有去看戏了。你呢?
新年你去看什么贺岁片?
港产片不是每一套都和我的口味,但星加坡该没问题吧!
梁导演!又是你的啦!
This post will be a short one, just want to share a movie trailer that with you all.
"Love Matters" is a new movie from Jack Neo. Still remember him?
Ya is it!
So he is back for the latest movie 2009. This film will be shown in cinema at CNY period.
So it is a very very good reason to go to cinema and watch this movie at CNY!
送上一个超好笑的预告片!看到我笑爆肚!!
So here is the Movie Trailer.
Very funny!!!

ei,还没完!再来一个短片!
有再一次笑爆肚。。。xD
Hei, not yet finish. A short clip to you all!

p/s:so turn off your phone when watching movie.
pp/s: If you had missed last switch off phone clip, here is it!

So. Thats all!
Bye. And happy CNY!
joshuatly2009